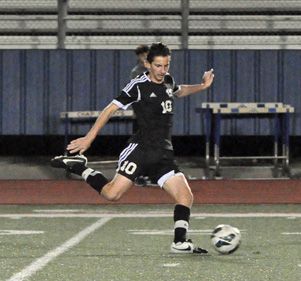 Brooks' blast sparks Cavs to 3-0 win at Westlake
Lake Travis senior center fullback Jon Michael Brooks doesn't often venture forward on the attack. He's too busy making sure opposing attackers don't get clean shots at Chris Daves' goal.
Tuesday night at Westlake, Brooks came forward early in the second half as part of a set piece off a corner kick. He took a back-pass from Parker Fyfe and ripped a 30-yard laser through the defense, past stunned Chap goalie Sam Laude and into the corner of the net for a surprising goal that sent the district champion Cavaliers (16-1-1, 13-0-1) on their way to a 3-0 win over the rival Chaps (7-7-2, 6-6-1).
"I wasn't expecting to do it on that corner kick," Brooks said after the game. "I didn't really think about it. I just tried to hit it solid."
No Lake Travis goal this season – and there have been plenty – has been more solidly struck.
"I don't know if there's a goalie in the state who could have stopped that one," said coach David Bammel. I drew up that play for players like Jon, and he hit a laser into the corner."
Brooks' goal came four minutes into the second half after the teams played a back-and-forth first half. Despite getting the better of possession and creating more chances, the Cavaliers couldn't crack the Westlake defense.
"They played a high pressure defense and their intensity was where it needed to be," Bammel said of the Chaps. "You could tell they wanted to be the team to get the upset and make the playoffs."
Brooks' goal took some air out of Westlake's hopes, and the Cavaliers kept the pressure on. With 28:30 left, Mason Laaksonen beat several Westlake defenders to a long pass and tapped the ball past Laude for a 2-0 lead. With 16:31 left, Vance Perkins drew a foul in the penalty area. Fyfe stepped up and converted the penalty for the final margin, which would have been greater but for Laude's handful of diving saves that frustrated Perkins time and again.
While Laude remained busy throughout the second half, Daves remained largely untested in the Lake Travis goal. The Chaps threatened with an early free kick, but Lake Travis' wall did its job. When the Chaps did manage to get through Lake Travis' first wave of defense, the back line, led by Brooks, Paco Alvarado, Marc Birkvald and Zach Still, prevented clean shots on goal.
"Our back line did a great job recovering and tracking runners," Bammel said. "To keep an offense like that off the board is terrific."
Brooks agreed despite the importance of his goal.
"Defense is pretty important," he said after the game. "Being able to hold them [scoreless] was huge."