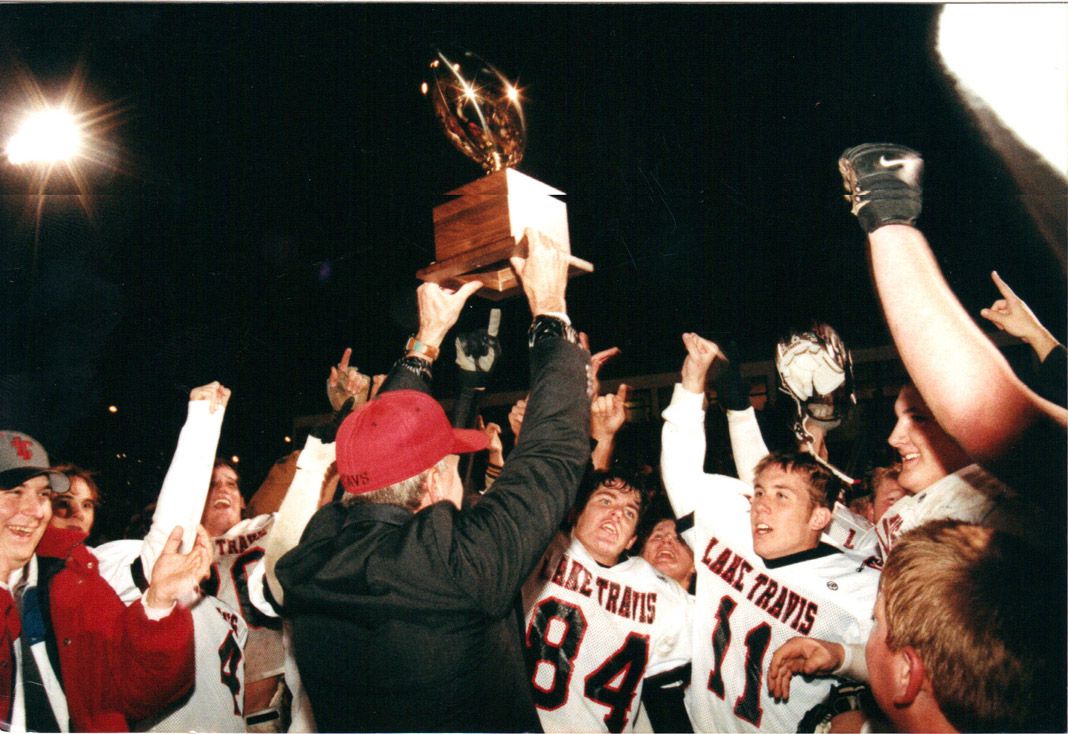 Four oldies to remember
But before we list those, we wanted to mention four games that stand out from Lake Travis' previous life as a football, ahem, afterthought.
2000: New Braunfels 28, Lake Travis 25
Area playoff game came in Lake Travis' first-ever playoff season. Gritty bunch of overachieving Cavaliers, who lost their best player in week one and starting quarterback in week two, played a neck-and-neck, back-and-forth game at New Braunfels. A late Unicorn touchdown, on a fourth-down Hail Mary, ended to that point the most memorable season in school history.
2005: Lake Travis 24, Alamo Heights 21
Lake Travis had just finished its first unbeaten regular season and featured an offense that, despite losing star running back Luke Lagera in the preseason, scored seemingly at will with Todd Reesing playing catch with Fred Robinson. But Lake Travis struggled on a Saturday afternoon in Round Rock, and as Todd Reesing recounted in the book, the Cavaliers needed a miracle and got one. The Mules were driving for the nail-in-the-coffin score when a penalty pushed them out of field goal range. Given new life, Reesing led his only fourth-quarter, game-winning drive in high school, asking Jeff Dicus for the ball at the goal line and diving in for the winning score.
1999: Lake Travis 38, Dripping Springs 37 (ot)
It wasn't Lake Travis' first win over its lifelong rival, but it may have been the best win in the series. Trailing 21-0, the Cavaliers rally furiously thanks to Mark Kuenstler's bulldozer of a kickoff return and the frequent connections from Greg Wiggins to Jared Quick. Lake Travis forced overtime and scored on the first play. When the Tigers scored, Howard Ballard went for two and the Lake Travis defense stood tall. To this day, Wiggins and Ballard still talk about that decision.
2000: Lake Travis 21, Connally 14
The game of firsts for Lake Travis. In the playoffs for the first time, the Cavaliers scored on their first snap, a 63-yard toss from Cody Skaggs to Jared Quick, just like they'd practiced all week, coach Jim Shewmake recounted in "Drive to Five." Lake Travis leads 21-0 and holds on to win its first-ever playoff game.
Enough of the old days, though. The ten best games, from 10 to 1, follow.