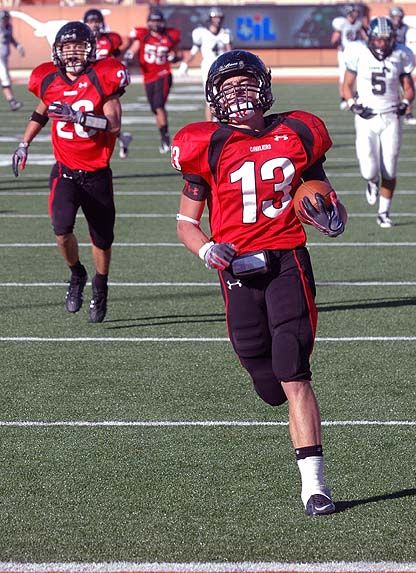 First team defense
DE: Tyler Paulsen (2009-2011): Three-year letterman, two-year starter who also punted as a senior. Had 22 sacks in his career, 34 tackles for loss. As senior posted 87 tackles (56 solo) and 11 sacks with four forced fumbles.
DT: Todd Perry (2007-2008): Two-year letterman who emerged as standout as senior, when made 100 tackles (50 solo) and seven sacks. Commanded double-team, which freed up speedy ends and linebackers to register 47 sacks in unbeaten season.
DT: Jonathan Roberts (2009-2010): Two-year starter at defensive tackle. Had dominating junior season with 104 tackles and 2 sacks. Battled injury as a senior but still made 82 tackles, including 10 tackles for loss, and five sacks. Two-time state champion.
DE: Ryan Erxleben (2007-2008): Emerged as part of devastating pass rush late in 2007 season. Keyed 45-14 win over Calallen when he sacked the quarterback, forced and recovered a fumble and scored a touchdown on same play. Also had sack in championship game over Highland Park. As senior had 77 tackles and 5.5 sacks.
OLB: Ian Lazarus (2007-2009): Started as sophomore safety on first state championship team before converting to outside linebacker for junior and senior seasons. Aggressive player who increased tackle production each year. Had 19 solo, 36 assists in 2007 with 3 interceptions and 3 fumble recoveries; added 68-28 as junior and 87-50 as all-state senior.
ILB: Mark Kuenstler (1997-2000): First dominant Lake Travis defender. Became starter as freshman, where made more than 100 tackles as defensive end. Shifted to linebacker as sophomore and averaged 150 tackles in sophomore, junior season. Senior season cut short with knee injury in opener of what would be school's first playoff team. In career scored touchdowns five different ways: rush, pass, fumble return, interception return and kickoff return.
ILB: Quinton Crow (2008-2009): Became all-state linebacker after putting up pair of monstrous seasons. Had better than 190 tackles each of his two championship seasons. Also registered 11 sacks, three fumble recoveries and three interceptions in his career.
OLB: Harry Hatch (2007-2008): Two-time state champion and all-state as senior, when contributed 126 tackles, 8 sacks and 2 interceptions. Grew into starting role for playoffs of 2007 season and was closest defender to Highland Park's Austin Mai on the Scots' final failed fourth down try late in the game. Was emotional leader of defense in 2008 and helped transform image from offensive powerhouse to tough defense.
CB: Sean Robinson (2006-2007): Two-year starter and top corner on first state championship team. His chase and forced fumble-to-touchback saved go-ahead Highland Park touchdown and was key to winning first championship. Also had fumble return for touchdown against Westlake. Had 54 tackles and an interception as senior. Added two interceptions as junior.
CB: Brock Kenyon (2010-2012): Two-year starter and two-time state champion. Had key interception to seal state quarterfinal win over Cedar Park in 2011, when made 69 solo tackles and intercepted five passes. As senior had 58 solo tackles, two interceptions.
S: Zach Streuling (2010-2011): Two-time state champion and 4A defensive player of the year in 2011. As junior, emerged as standout with 77 solo, 53 assists, 2 interceptions, including one on goal line in state quarterfinal win over Cedar Park, and a sack. As senior earned all-state honors with 116 solo, 82 assists, 13 tackles for loss and 6 interceptions. Middle of three brothers with championship rings.
S: Michael Streuling (2008): Starter on 2008 team. Had 56 solo, 55 assisted tackles, 2 interceptions, 3 forced fumbles, 2 blocked kicks and a fumble recovery. Also part of 2007 team.
P: Ryan Erxleben (2007-2008): Averaged better than 44 yards per punt as senior, when pinned opponents inside their own 20 on 33.3 percent of his tries. Now punting at Texas Tech.