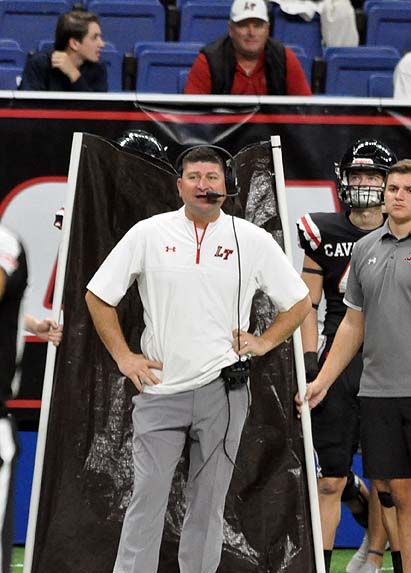 Lake Travis adjusts plans under 'circumstances out of our control'
With spring football practice on hold, Lake Travis coach Hank Carter finds himself in the exact same boat as everyone else these days.
The back-to-back 6A Division I semifinalists have questions to answer, concepts and strategies to master and – perhaps most importantly – a new offensive coordinator to get to know. But with school campuses across Texas closed through at least May 4, spring practice must wait, and understandably so, Carter said.
"This is out of our control," Carter said. "Whenever we're able to get back to it, we'll have a great plan for it. I wish I could be around the kids and players, but we're not able to do that."
Lake Travis returned from its spring break March 26 to online classes. This includes athletic periods. The athletic class period gives Carter and his coaches – including new OC Tommy Mangino - the opportunity to communicate with football players and teach concepts.
"We're able to have meetings, watch film and teach concepts," he said. "We just not doing the physical side of it. We're able to do the same things we would be doing during the athletic period."
Through video calls, Zoom meetings or Google Hangouts, the coaches and players are able to connect. Along with the regular class sessions, the coaches are also sending out workouts players can complete at home, and strength and conditioning coach Tanner Jacobs hosts live online workouts on Thursdays as well.
The day-to-day planning of the athletic period remains the same with the exception being students connecting from their own homes.
In addition to keeping students in the football program engaged from their homes, the coach must also keep his own children on their school routine. Carter and wife Stacy – a Lake Travis High School science teacher – navigate the days just like any other working family. The Carters team up to make sure children Jason and Madison are dialed in and working – each has a device to connect to the school and a designated workspace.
"If I have an early morning call, then Mom has breakfast duty and gets the kids started,
he said. "When I'm done and she is available for her students, I'm keeping the kids on task. We make sure the kids know what we all need to do. And then we make sure they get outside and do some type of physical education every day. We all need that."
While Carter would prefer his team get a chance to go through its normal spring – practice was set to begin on April 20 and culminate with the annual spring jamboree on May 15 – he won't complain if that doesn't happen. The reality is that the longer schools remain closed, the slimmer the chances that spring football happens, though neither the school nor the University Interscholastic League has made any rulings.
"For much of my career, maybe half of it, we didn't have spring practice," Carter said of his days coaching at schools that weren't allowed to conduct spring practice according to UIL rules, which only allow 5A and 6A schools to hold spring practice.
Until there's more information or a change in plans passed down from the administration, Carter's doing what everyone's being asked to do.
"We're being asked to stay at home and be safe," he said. "I'm thankful that our district has a great plan and we are still able to work and do the things that we need to do."