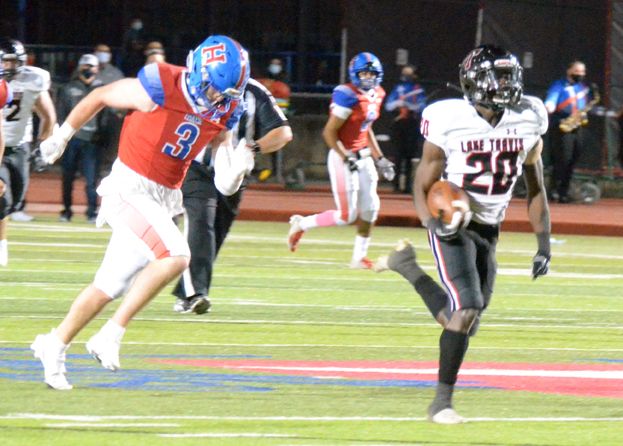 Edmundson, Nava power Lake Travis past Hays
Sophomore quarterback Bo Edmundson enjoyed the best night of his young career, passing for 459 yards and six touchdowns, to lead Lake Travis to a 70-35 win over Hays in a District 26-6A game Friday.
In just his third game, Edmundson got Lake Travis off to a fast start. The Cavaliers jumped out to a 21-0 lead and led 35-7 early in the second quarter as Edmundson threw two early touchdown passes to Aden Nava and a third to Michael Kennedy against an overmatched Hays defense.
"He continues to play really well," Lake Travis coach Hank Carter said. "We're giving him more of the playbook and asking him to read the entire field and he's doing that really well right now."
Edmundson also helped Lake Travis respond to a Hays rally that saw the Rebels pull within 42-29 in the third quarter. His 59-yard completion to Nava set up Marcelo Alanis' second touchdown run of the night, and touchdown passes to Nava and Kennedy provided the final cushion.
After recovering a Lake Travis fumble and stopping the Cavaliers on downs in the third quarter, Hays marched deep into Lake Travis territory with a chance to pull within a touchdown. Lake Travis' defense, which gave up three touchdowns on plays that covered more than 60 yards, made a play when it counted most.
D.J. Johnson stopped Hays' Michael Boudoin on fourth down from the Lake Travis 9 on a play that had hurt Lake Travis all night – Boudoin finished with 103 yards rushing, most coming on the same end-around play.
"That was certainly a big play," Carter said of Johnson's stop. "Hays has some really talented skill players and they took advantage of some of our mistakes. I have to do a better job with our coaches of making sure our guys in the right spots to make plays."
Two plays later, Edmundson found Nava deep down the sideline, and Hays never threatened again.
Nava finished with seven catches for 215 yards and three touchdowns. Nava becomes just the fifth different Lake Travis receiver to amass more than 200 yards in a single game. Only Zach Austin and Garrett Wilson had more yards in a game. Cade McCrary and Fred Robinson also topped the 200-yard mark.
Edmundson's 459 yards rank third on the Cavaliers' single-game passing yardage list, tied with Matthew Baldwin. Baldwin also accomplished the feat against Hays. Only Garrett Gilbert (474) and Baker Mayfield (464) had bigger games. The six touchdown passes mark the second-highest in a single game.
Lake Travis finished with 695 yards of offense against the Rebels. Weston Stephens rushed for 105 yards while Alanis added 91.