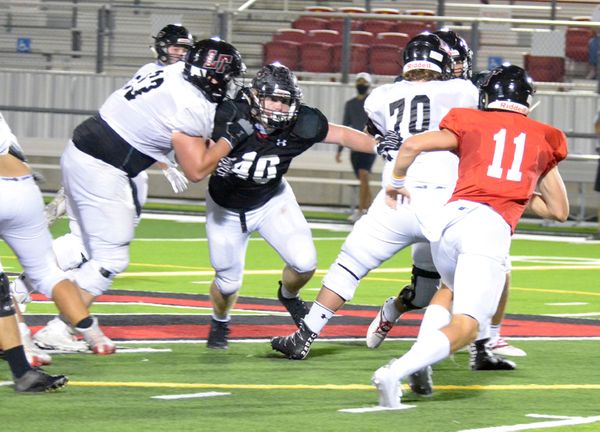 Converted running backs take leading role in LT defense
Lake Travis will try to fill the void left by graduated linebackers Tag Humble and Maui Trevino by putting some familiar faces in new places.
While they are no strangers to varsity football, Wesley Erwin and Watson Cusick have spent more time dodging – or running over – tacklers than making tackles. In 2019, Erwin and Cusick combined for 364 yards and five touchdowns running the ball. Cusick also played linebacker, appearing in nine games and making 23 tackles. He also returned a fumble for a touchdown.
In last week's intersquad scrimmage, both made their share of plays as they continue adjust to the game from a bit different perspective.
"We have a lot of guys who used to play offense, so it's a lot of new concepts, a lot of working it from this side of the ball," junior D.J. Johnson said. "We can still tighten things up but I'm happy with how we played."
Johnson's entering his third year on the varsity – he joined the varsity late during the 2018 regular season and, after recovering from an early injury, started at rover as a sophomore. His experience makes him one of the leaders. While he's one of only four returning starters, he likes what he's seen as the season approaches.
"I think we can be good…continue our tradition of being a fundamentally good football team," he said. "The defense is young, but we have playmakers. We should be pretty good."
Johnson, safety Ife Ohalete and defensive tackle Raleigh Erwin will anchor the defense. Aden Nava, a two-year defensive starter, will still figure into the defensive mix though he'll see more time catching passes than defending them, Cavaliers' coach Hank Carter said.
"We'll use him the same way we used Kyle Eaves and Garrett Wilson," Carter said. "He'll play receiver but will be ready to play corner when we really need it. He can do that at a high level."
Other players with two-way experience who'll figure in the defensive plans include Chrenet Estes and Jacob Glova, receivers who have impressed at safety and corner, respectively. T'Sai McDaniel and Mason Simo have also gotten Carter and defensive coordinator Ryan Luedecke's attention.