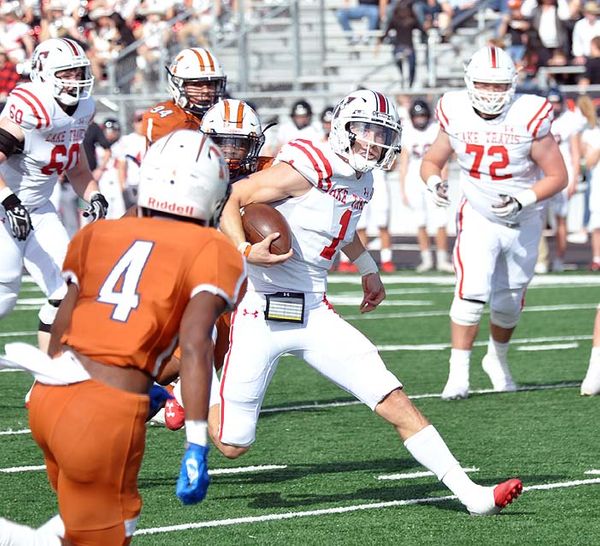 While spring practice winds down, Card's ready for busy summer leading up to senior season
While Lake Travis' spring football season officially comes to a close Friday evening, quarterback Hudson Card's summer is just getting started.
On Saturday (weather permitting), he'll lead the Lake Travis 7on7 team in its first state qualifying tournament. Then its on to Frisco for the finals of the 2019 Elite 11 competition, where he'll compete with 10 of the country's other top quarterbacks (including Highland Park's Chandler Morris, the son of former Lake Travis and current Arkansas coach Chad Morris) for bragging rights while learning from a crop of elite coaches including Trent Dilfer.
"It's exciting," Card said. "It's all of the best quarterbacks in the country. I'll obviously learn a lot. We'll have great coaches coaching us, so it should be a great experience. I've been watching it ever since I was a little kid so I'm excited about it."
While the summer trip to the DFW Metroplex will serve as a learning experience and measuring stick, Card's more focused on earning a trip back to DFW – Arlington specifically – the weekend before Christmas. The work to earn that trip began the moment the Cavaliers lost to Galena Park North Shore in last year's state semifinal.
"It was definitely frustrating, but we didn't play our game," Card said, offering a final look back at last season. "We made a lot of mistakes and if we bring our game and we're prepared, good things will come our way. Anything can happen in the game. They're obviously a good team but we're not worried about anything like that."
Card likes the way the Cavaliers worked during spring practice. The offensive line returns three starters and will benefit from an offseason in the weight room. Garrett Wilson's graduated, but the nucleus of another dangerous group of receivers returns, along with some newcomers to the offensive rotation.
"I've seen a lot of guys step up," Card said. "Obviously, Garrett's gone but a lot of receivers have been coming in and balling. Lake McRee, Kyle Eaves. Gray[son] Sandlin. And Max [Foit] has been stepping up too."
Eaves gained more than 1,000 receiving yards and was Card's top target when Wilson missed a handful of games with a back injury during the season. Sandlin got off to a strong start before a broken clavicle derailed his season. McRee overcame his own injury issues and emerged as a late-season target who's blossomed into a major college prospect with Big XII and SEC offers.
Foit played his first two varsity seasons on defense, rotating between safety and cornerback. Jackson Scruggs has also joined the rotation with a solid spring.
Card hopes to showcase everyone's ability in the annual spring game.
"We have a good squad and I'm looking forward to it," Card said, both of the spring game and the season to come.
"This is a great team so we're going to bring it every week," he said. "There's a lot of competition so I'm going have to work really hard through the summer and spring and everything like that so we reach our goal which is obviously state. This is my team now. I'm trying to improve my leadership and everything with the team."