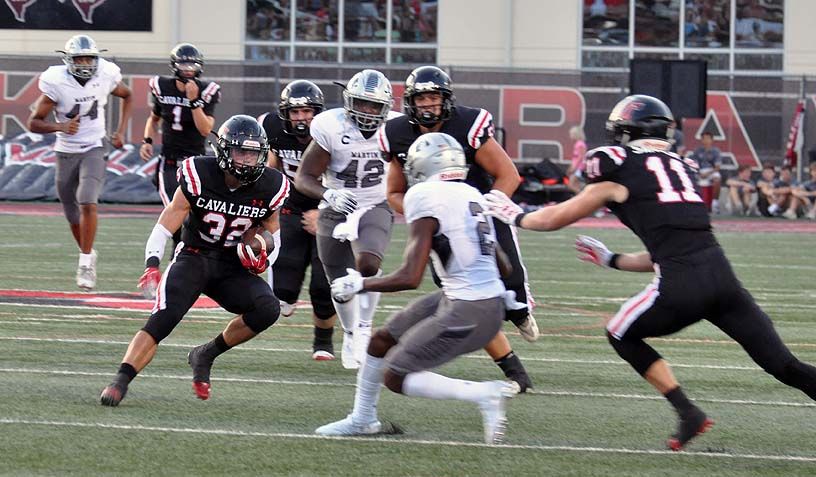 Mundell, Martin spring season-opening upset on No. 3 Lake Travis
Originally published by the Austin American-Statesman
Lakeway – Zach Mundell ran for three touchdowns and passed for a fourth to lead Arlington Martin to a 35-14 upset of third-ranked Lake Travis in both teams' season-opener Friday night.
While Mundell directed his team's ball-control offense with poise and efficiency, Martin's defense frustrated Lake Travis' usually high-scoring offense, holding the Cavaliers scoreless after halftime.
"My hat's off to Martin," Lake Travis coach Hank Carter said. "They were the more physical football team tonight and they deserved it."
Martin broke a 14-14 halftime tie by capitalizing on KJ Polk's interception of Cavaliers' quarterback Hudson Card. Polk snatched Card's pass away from Grayson Sandlin at midfield and returned it to the Lake Travis 30. Mundell quickly turned the interception into a 21-14 lead, scoring on a 7-yard run two plays later.
The Warriors defense took over from there, holding Lake Travis to just seven first downs after halftime, three of which came once the game was out of reach.
"We struggled to run the ball and that made us one-dimensional," Carter said. "They were playing tight man coverage, and we won some one-on-one battles but at the same time Hudson was getting hit a lot and our receivers weren't getting loose."
The Cavaliers managed just 108 yards after halftime. Card completed just six of 19 passes in the second half. After completing his first nine passes of the game, Card finished 23 of 46 for 246 yards, two touchdowns and an interception. Sandlin caught both of the touchdown passes.
The Warriors pulled away on Mundell's third touchdown run early in the fourth quarter and Chris Craft's short touchdown run with less than two minutes left.
Mundell finished with 174 rushing yards on 18 carries. He also completed 8 of 15 passes for 72 yards and a 33-yard score to Cal Robinson in the second quarter. The Warriors wore down Lake Travis' defense by running for 285 yards on the night.
"For us, that's just not good enough," Carter said. "We have to be a much more physical football team on both sides of the ball. It was not a good effort and not a good job by me coaching, or the rest of our staff and we need to do something about it."
Lake Travis scored first when Card hit Sandlin for a 20-yard score midway through the first quarter, but Martin slowly wrestled control away. Mundell's 71-yard scamper through the Lake Travis defense tied the game, and his pass to Robinson gave his team the lead for the first time in the second.
After blocking a short field goal attempt by Lake Travis' Hays McCannon, Martin began another march toward the end zone before Mundell made his only mistake. From the Lake Travis 30, he rolled right and tried to throw back into the middle of the field. Lake Travis linebacker Maui Trevino intercepted it and returned it to midfield with less than a minute left.
Given new life and momentum, Card connected with Max Foit for a 45-yard gain to the Martin 5-yard line before connecting with Sandlin for the score that tied the game at the break. But the Cavaliers could bring that momentum back to the field for the third quarter. The offense struggled and the defense couldn't get Martin off the field when needed.
"This is football, and on every snap we have to play smart," Carter said. "We didn't play smart football tonight."
The loss sends the Cavaliers back to the drawing board to prepare for Friday's meeting with Mansfield Timberview, which lost its opener 77-47 to Bixby (Okla.). It's the third time in four years that the Cavaliers have lost their season-opener.
"Obviously, my plan was not good enough tonight," Carter said. "I need to do a better job of making sure our kids understand that we have to be able to execute in the moment.