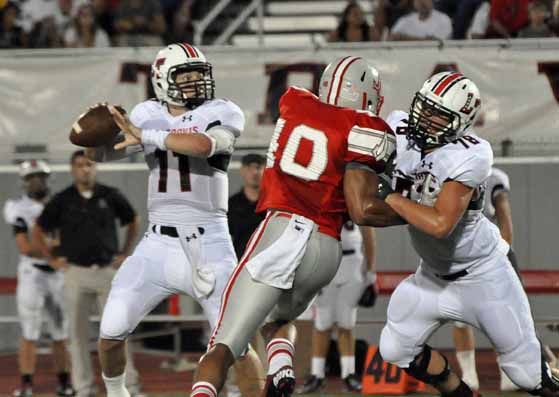 Cavaliers, Rockets renew rivalry in regional championship rematch
Lake Travis' 2018 rewind continues Saturday. The Cavaliers take on regional rival Converse Judson in a rematch of last year's 6A, Division I, Region IV championship game.
This year's meeting will be the seventh time the teams have met since 2012. The last two meetings have come in the playoffs. While Judson holds a 3-1 advantage when the teams have met in the regular season, Lake Travis has won the two biggest meetings.
A quick summary of the rivalry as the teams prepare for Saturday's clash.
2018: Lake Travis 38, Judson 21 (Region IV championship game)
Hudson Card stood tall in the face of Judson's persistent pass rush to deliver four touchdown passes: two each to Kyle Eaves and Garrett Wilson. Lake Travis' defense held Judson's high-scoring offense in check by forcing three turnovers, none more important than during a goal-line stand at the end of the second quarter.
2017: Lake Travis 47, Judson 39 (Region IV Area playoff)
Lake Travis avenged a regular-season defeat by rallying from a 26-14 deficit. Matthew Baldwin passed for 295 yards and three scores, Garrett Wilson and Hudson Card each ran for fourth-quarter touchdowns and added two-point conversions as the Cavaliers stunned the Rockets. Kade Langston's fourth-down sack of Julon Williams stuffed Judson's last chance to get back into the game.
2017: Judson 65, Lake Travis 45 (season opener)
In a top-two matchup, top-ranked Judson used an offensive explosion to hand Lake Travis an historic defeat. Julon Williams passed for 283 yards, rushed for 222 more and produced five touchdowns to lead Judson to 753 yards. Matthew Baldwin, making his starting debut, passed for 436 yards and five touchdowns.
2016: Judson 35, Lake Travis 28 (season opener)
With state title aspirations, Lake Travis struggled out of the gate, dropping its home opener 35-28. after leading 28-13 to open the final quarter. Penalties proved costly - Lake Travis was flagged 13 times for 99 yards - and Julon Williams produced 331 yards of offense, directing three fourth-quarter touchdown drives.
2013: Judson 25, Lake Travis 19
Judson's defense frustrated normally high-scoring Lake Travis, and the Rockets used a first-half surge and outstanding field position to get past the Cavaliers. Shaun Nixon rushed for 70 yards on 17 carries to lead the Cavaliers.
2012: Lake Travis 47, Judson 13
In Lake Travis' first game in the state's highest classification, Baker Mayfield passed for 414 yards and five touchdowns, and Judson's secondary never caught up with Zach Austin, who caught 8 passes for 231 yards and four of the touchdowns.