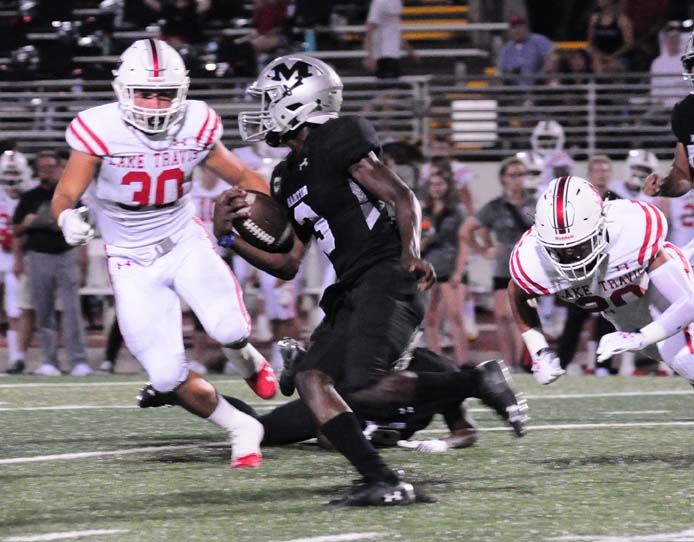 About Arlington Martin
At long last, the 2019 football season has arrived. Lake Travis opens the season against Arlington Martin. The teams met for the first time last year with Lake Travis claiming a 35-14 win.
That season-opening loss proved a preview of an uncharacteristically rough year for the Warriors, who finished 5-6, the first sub-.500 season since 2008. Lake Travis coach Hank Carter said Monday he expects that Martin is eager to bounce back and look more like the team that has won 10 games six times in the last nine seasons.
"They are normally a really, really good program and I think last year was a little bit of a down year for them," Carter said. "From what I've seen on film, they look like they are a better football team."
Martin improved as the 2018 season went along. Following the season-opening loss to Lake Travis, the Warriors lost their next three games for an uncharacteristic 0-4 start. They regrouped and won five of their final six games to close the regular season, and they take that momentum with them into the new season.
Last year's game saw Lake Travis pull away after settling in against the Warriors' blitz-heavy defense. Carter expects to see more of the same on Friday.
"They bring a lot of pressure," Carter said. "They are a big, strong, fast team."
Scouting the Warriors:
Coach: Bob Wager, 14th season at Martin, 23rd year overall
2018: 5-6, DI Bi-District finalist
Players to watch: QB Zach Mundell, RB Chris Craft, LB Ed Jones IV, LB Julian Johnson, LB/DB Morice Blackwell.
Notes: Mundell took over at quarterback midway through the season. He gives the Warriors a dual-threat option, combining for 1,600 rush/pass yards and 13 TDs. Craft returns to running back after playing on the defensive line in 2018, where he made 38 tackles. The strength of Martin's defense may lie in the linebackers, where Jones, Johnson and Blackwell combined to fluster opposing offenses. Jones amassed 20 tackles for loss and 10 sacks among his 82 stops. Johnson posted 82 tackles and five sacks. Blackwell led the team with 112 tackles as a sophomore. He also blocked two punts.
Last year: Sean Brown-Nixon rushed for 103 yards and two scores to pace the Cavaliers' offense and Hudson Card tossed a trio of touchdown passes. Lake Travis' defense held Martin to just 160 yards of offense, 77 of which came on Montrell Smith's third-quarter touchdown run.