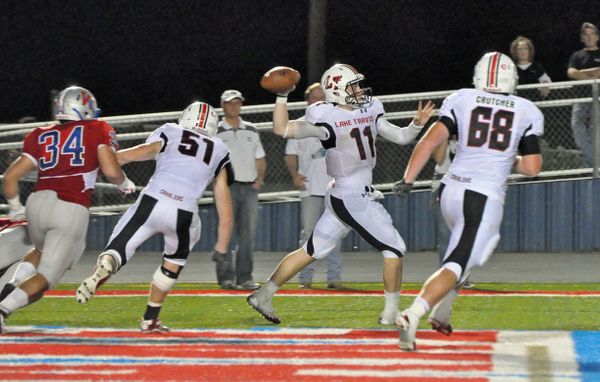 Series History in Brief: Game-by-game summaries
2006: Westlake 37, Lake Travis 14 (LT)
Future Super Bowl champions Nick Foles and Justin Tucker help the Chaps win the first Great Lake Shootout. Bron Hager and Max Minor both top 100 yards rushing for the eventual state finalists.
2007: Westlake 28, Lake Travis 21 (WL)
Westlake's defense intercepts Lake Travis quarterback Garrett Gilbert four times, including two late in the game to thwart a Cavalier rally. Following the loss, Lake Travis wins 48 consecutive games.
2008: Lake Travis 38, Westlake 17 (WL)
Gilbert atones for his interception-filled outing in 2007 with three touchdown runs and the Cavaliers, under new head coach Chad Morris, get their first win in the series.
2009: Lake Travis 42, Westlake 21 (LT)
Michael Brewer throws for more than 400 yards, connecting time and again on deep throws to Andy Erickson and Connor Floyd, as Lake Travis rolls to its first home win over the Chaps.
2010: Lake Travis 32, Westlake 21 (DKR)
In Hank Carter's debut as the Cavaliers' coach, Brewer's second-half touchdown pass to Griffin Gilbert proves to be a big score, and Austin Williams' late pick-six seals it.
2011: Lake Travis 35, Westlake 7 (DKR)
Playing for the second time at Royal-Texas Memorial Stadium, Lake Travis starting quarterback Colin Lagasse left the game after six plays. No worries for the Cavs, though. The Cavaliers insert Baker Mayfield, who engineers a 35-7 win, leads the Cavaliers to their fifth straight state title and goes on to win the Heisman Trophy and becomes the first pick in the 2018 NFL draft.
2012: Lake Travis 14, Westlake 11 (WL)
Westlake's late fourth-down gamble fails when the Lake Travis defense stops Alex Chavez. Two plays later, Mayfield – under pressure in his own end zone – finds Grant Foster behind the defense for a 96-yard touchdown and a Cavalier comeback.
2013: Lake Travis 28, Westlake 27 (LT)
After controlling the game for three quarters, Westlake can't hold a 27-14 lead. Sparked by Shaun Nixon, Lake Travis dominates the fourth quarter, winning the game on Nixon's touchdown run with four minutes left. The Lake Travis defense held Westlake to fourth quarter possessions, both of which resulted in 3-and-outs.
2014: Lake Travis 24, Westlake 7 (LT)
Lake Travis' defense sacks Sam Ehlinger 11 times and Dominic De Lira guides the Cavaliers to another win on their home field.
2015: Lake Travis 35, Westlake 14 (WL)
Despite losing running back Abe Willows to a knee injury, Lake Travis pulls away for a 35-14 win. Charlie Brewer throws three touchdown passes to lead the way. Both teams reached the 6A state championship games, the second time that has happened since the teams started playing (2009).
2016: Lake Travis 49, Westlake 7 (LT)
Ehlinger suffers a broken thumb early in the game and the Cavaliers roll. Maleek Barkley scores three touchdowns, and Westlake avoids its first shutout in 30 years when Steele O'Connor scores in the fourth quarter.
2016: Lake Travis 51, Westlake 3 (Reeves)
In the teams' only post-season meeting, eventual state champion Lake Travis dominates from start to finish, winning 51-3. Ehlinger misses the game after breaking his wrist the previous week.
2017: Westlake 21, Lake Travis 14 (WL)
Westlake uses relentless pressure from David Neil and a relentless second-half rushing attack featuring Nakia Watson and Taylor Anderson to end Lake Travis' 10-game winning streak in the series. Westlake's defense snuffs out Lake Travis' final rally stopping Garrett Wilson on fourth down in the final minute.