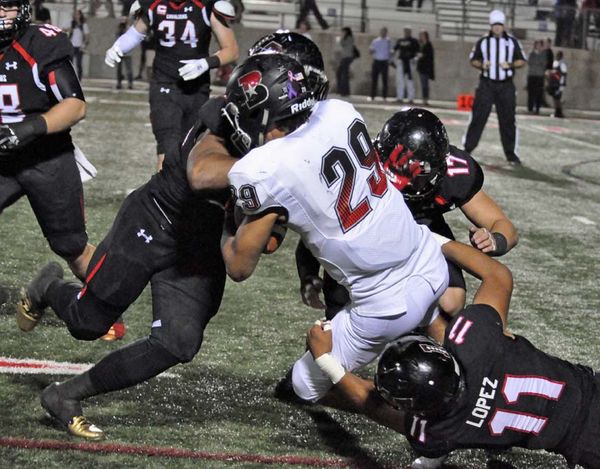 Schedule includes six road games, back-to-back trips to DFW
Each year Lake Travis football fans like to plan at least one trip to the DFW Metroplex, usually around Christmas for the state championship game in Arlington's AT&T Stadium.
If the Cavaliers are to make their fourth straight state title game this coming December, Lake Travis fans will be all too familiar with the drive. Lake Travis opens the season with back-to-back road games in the Metroplex and doesn't play a game in the friendly confines of Cavalier Stadium until Sept. 21.
"I'm beyond overjoyed that we have 10 games on our schedule," Lake Travis coach Hank Carter said in late July, acknowledging tongue-in-cheek the challenge of filling a schedule after the bi-annual UIL realignment. "I was thankful that Arlington Martin and Mansfield Summit would agree to have us come visit them early in the season."
Realignment added two teams to Lake Travis' 25-6A slate – removing three Leander ISD schools (Leander, Vista Ridge, Vandegrift) and replacing them with five Austin area opponents (Austin High, Bowie, Anderson, Akins and Del Valle. While Carter only had to find two non-district opponents, he struggled before agreeing to series with Martin and Summit that call for Lake Travis to travel twice. Coupled with a road game against Bowie to open district play, the Cavaliers will three road games to open the season.
"The travel with three road games to start the season, no one is overly excited about going to DFW two weeks in a row," Carter admitted. "But again, my joy for having 10 games that are all in state is going to trump any travel frustration. It will make it nice for a year from now [when both Martin and Summit come to Lake Travis to open the season]."
Both Martin and Summit enjoyed playoff-quality seasons in 2017 and will test the Cavaliers early. Summit reached the 5A, Division I regional semifinals. Martin, the Dave Campbell Texas Football pick to win District 4-6A, reached the regional semifinals as well.
"We don't know much about the two pre-district games, but they are talented teams and they've made some runs before," Carter said. "As usual, I think our early schedule is pretty difficult."
When district play arrives, the Cavaliers open in Burger Stadium against Bowie on Sept. 14 before finally playing a home game on Sept. 21 against Akins. Lake Travis' marquee regular season game comes Oct. 12 when the Cavaliers square off against Westlake at Westlake. The Chaps held off a late Lake Travis rally to win 21-14, snapping the Cavaliers 10-game series winning streak.
Lake Travis' bye week is Oct. 19.
Full schedule:
Aug. 24 at Cedar Ridge (scrimmage)
Aug. 31 at Arlington Martin
Sept. 7 at Mansfield Summit
Sept. 14 at Bowie (8pm)
Sept. 21 Akins
Sept. 28 at Austin High
Oct. 5 Lehman
Oct. 12 at Westlake
Oct. 26 Del Valle
Nov. 2 at Hays
Nov. 9 Anderson