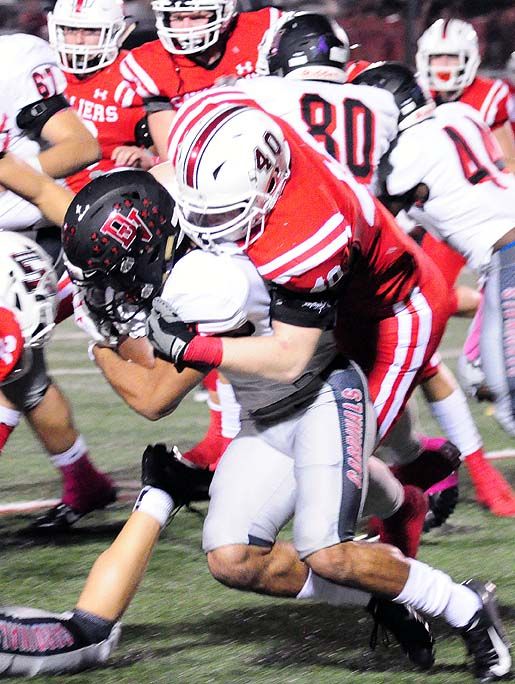 Rebels' Slot-T attack presents a unique challenge to Lake Travis defense
Lake Travis coach Hank Carter did his best impersonation of a Power-Five college football coach preparing to face Army or Navy and their triple-option based attack.
"Yeah, I think that's a fair way to describe it," Carter said as he prepared the Cavaliers (6-1, 5-1) for a trip to Bob Shelton Stadium to face Hays (7-1, 5-1) in a District 25-6A game that will decide the district's top seed in the 6A, Division I playoffs.
The Rebels won their first seven game this season, frustrating opponents with new coach Les Goad's Slot-T formation. The Rebels run the ball over and over out of tight formations, something most schools don't see any more in the age of hurry-up, no-huddle, spread attacks.
"These days we call it old-school football," Carter said. "It's something we haven't fully prepared for in a long time, but we have at times in the past."
Lake Travis caught a small break with its schedule, at least when it comes to preparing for Hays' unique offense. Del Valle, which Lake Travis defeated 55-23 last week, had shown some of the same tendencies, though the Cardinals didn't use them much in the game. Still, the threat had Lake Travis preparing for a Hays-like offense for two weeks.
"The fact that Del Valle did some of it was good, but Hays' version is different," Carter said. "It's unique."
The Rebels focus on running the ball with a deep stable of running backs. Quarterback Xavier Martinez has only attempted more than 10 passes in a game twice this season. The Cavaliers know they'll need to be strong up front. Sophomore tackle Raleigh Erwin and junior tackle Ryan Colliau will try to duplicate the success they had in bottling up Del Valle's running attack early in last week's game.
"They are very focused on running the ball, so there will be a lot of responsibility on the defensive line and linebackers to do our jobs the right way every time," Colliau said. "We have to make sure we are set up correctly and then we have to play very physical football."
Erwin echoed the importance of each player doing his job correctly.
"They run this offense so well and they catch a lot of teams off guard," Erwin said. "We just have to do our repetitions at practice, recognize the formations and play our responsibilities."
The week hasn't been solely about focusing on Hays. Lake Travis spent as much time continue to work on things it needs to improve, especially offensively. The Cavaliers opened up a quick lead against Del Valle, forcing the Cardinals to abandon their rushing attack to try and keep up, which in turn led to greater separation. The Cavaliers led 55-9 in the fourth quarter.
While the Rebels are more rooted to their rushing attack, Lake Travis hopes it can make Hays feel the need to pass the ball.
"That's kind of where we want them, where they aren't running what they are best at," Erwin said.
While the Rebels haven't thrown the ball much this year, Carter quickly points out that they can. Tight end Bayler Jordan gives Martinez a sizable target, and with teams focusing so much on defending the run, it doesn't take much for Hays' receivers to escape when they fake a block and run pass routes up the field.
"When they have thrown it, guys are usually wide open," Carter said after watching film of the Rebels. "Even against Westlake, they had guys open, they just couldn't hit them."
"They run so much out of that tight formation that when they do throw it, they can catch you off-guard," Erwin said. "We know we have to be prepared for that."
Despite that threat, Carter would still like to see his defense put Hays in passing situations.
"It's really tough to keep this offense from getting two or three yards, but we have to try and stay away from letting them be in third-and-two," Carter said. "That is exactly where they want to be. They have a lot of plays that look great [to run] on third and two. On third and six, third and eight, not so much."
Keeping Hays off-schedule starts up front with the likes of Erwin, Colliau and defensive ends Matthew Peterman, Hunter Simo and Trey Sofia.
"We want to put them in those second and long situations where they have to throw the ball," Colliau said. "That puts pressure on our secondary, but we rely on those guys heavily so the other team can't complete those passes and we get those three-and-outs."
"We need to fly around up front and create some havoc," Carter said. "That's the biggest thing. We know if we play well and do the things that we're capable of, we will get to host a playoff game and that's a big deal for our whole team and our seniors especially."