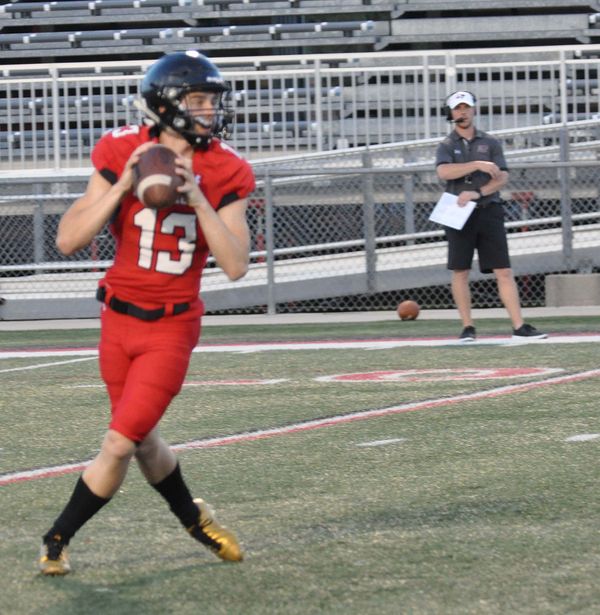 Pressed into duty, Janecek responds with crucial completion to set up key score
Needing a big play to regain momentum after Arlington Martin closed to within 20-14 midway through the third quarter in Friday's season-opener, Lake Travis went to a tried-and-true passing combination.
Hudson Card to Garrett Wilson? Nope. Peyton Janecek to Kyle Eaves.
After Montrell Smith ran 77 yards around Lake Travis' defense, momentum stood shoulder-to-shoulder with the Arlington Martin students who suddenly had plenty to cheer about. The Cavaliers needed to respond, and when Card limped off the field after an 18-yard scramble and awkward tumble on the Martin sideline, backup quarterback Janecek, who doubles as a receiver and the Cavaliers' primary punt returner, trotted onto the field.
"PJ came in and we have 100 percent confidence in him to run the offense and every play in it," Lake Travis coach Hank Carter said after the game.
The confidence proved well-founded. On his second play, Janecek saw a specific look from the defense, locked eyes with receiver Kyle Eaves and then hit him with a 37-yard strike. Two plays later, Sean Brown-Nixon bulled his way into the end zone and the Cavaliers pushed the lead out to 28-14 on the way to the 35-14 win.
"He made a great throw to Kyle and that was huge right there," Carter said.
Eaves said the offense never wavered when Janecek ran onto the field.
"We have a lot of confidence in Peyton," Eaves said. "He has confidence in his ability and in us, and he's a great leader. It was like running our normal offense when he came into the game."
Eaves saw the safety walk his way up into tight coverage on Eaves. The receiver looked to Janecek and knew the quarterback saw the same thing.
"I saw the safety come up on me and just looked at Peyton," Eaves said. "He looked at me and I knew he was going to me, and he put it in a great spot."
With Card committed to play at Texas when his Lake Travis days are done and sophomore Nate Yarnell also holding a scholarship offer from Houston, Janecek may have been the most overlooked Lake Travis quarterback heading into the season. At least by those outside the LT locker room.
"We knew about him and he took the lead," Eaves said of the quarterback he's worked with since middle school. "He isn't afraid of the moment. That helps us as well. We know Peyton will put the ball where it needs to be. We have a lot of great QBs. It's awesome to see every quarterback thrive in our offense."