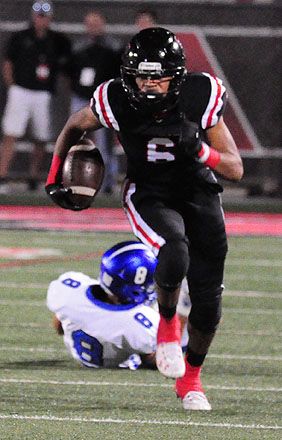 No Wilson, No Problem: Cavaliers continue roll against Lehman
Lakeway - Lake Travis hardly missed receiver Garrett Wilson, rolling to a 64-7 win over Lehman Friday night in a final tune-up ahead of next Friday's District 25-6A showdown at Westlake.
Jeremiah Patterson and Cortland DeNisio caught two touchdown passes each and Lake Travis (5-0, 4-0) cruised after opening up a 57-7 halftime lead over the Lobos (0-5, 0-3). Hudson Card completed 10 of 11 passes for 225 yards and four touchdowns and added a 38-yard rushing touchdown despite playing less than two quarters.
"Obviously no one can really replace Garrett, but we do have a lot of guys who can make plays," Lake Travis coach Hank Carter said. "I thought Hudson and our offensive line did an excellent great job. It was nice to see, but it will be great having Garrett back next week."
The Cavaliers held Wilson out of the game after the 5-star receiver suffered a slight back injury on Thursday. In his place, Patterson caught a 15-yard touchdown on the Cavaliers' opening possession and then added a 49-yard score when he got behind Lehman's defense on a trick play. Patterson, DeNisio, Kyle Eaves and Salvador Alanis each caught three passes as Lake Travis spread the ball around. Eight different Cavaliers caught a pass.
"We're a very versatile team," Patterson said. "We don't need to throw Garrett the ball 40 times a game. We have a lot of good receivers, as you saw today."
Weston Stephens added 99 yards rushing for the Cavaliers, including a 50-yard touchdown to give the Cavaliers a 29-0 lead.
"We did a lot of good things tonight," Carter said. "I'm proud of the way we played but obviously we've got a big one next week."
Lehman's first-quarter touchdown – a 2-yard run by Keyshaun Williams after Trent Armstrong recovered a muffed punt – gave the Lobos their first points against Lake Travis since 2014. Lake Travis' defense allowed Lehman just 114 yards of offense.
DeNisio caught his first touchdown pass, a 51-yarder from Card, two plays after Lehman's touchdown. Stephens scored after Aden Nava intercepted Cayden Raymond's pass. Card's 38-yard scramble, during which he ran the width of the field en route to the end zone, gave the Cavaliers a 50-7 lead, ending the night for the starters before halftime.
Peyton Janecek took over for Card and threw short touchdown passes to DeNisio and Salvador Alanis to close out the scoring.