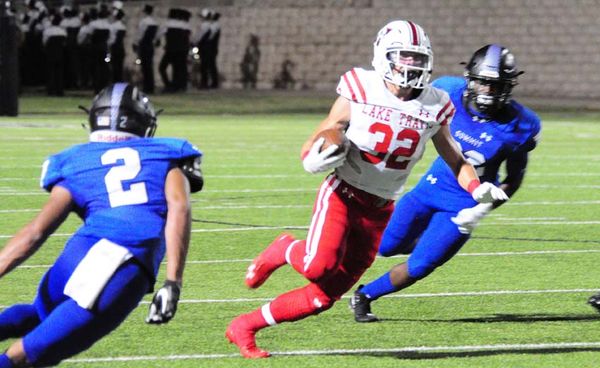 Next man up: Stephens shows off Cavaliers' backfield depth
Next man up's rarely been a problem for Lake Travis, especially on offense, where depth at receiver has always been a constant.
Running back, especially of late, hasn't been a position where the Cavaliers have had difference-makers ready to go. Last year, when Nick Villareal went down, the Cavaliers opted to convert tight end Kyle Wakefield to the running back. This year, however, appears to be a different story.
"Sometimes it just works that way where you have depth at a position like running back," Lake Travis coach Hank Carter said before the team's first game.
Senior Sean Brown-Nixon won the starting role in the spring and got off to a fast start with a 103-yard, 2-touchdown performance against Arlington Martin. But Brown-Nixon broke a bone in his foot late in the third quarter and won't be available again until later in the season.
Sophomore Weston Stephens stepped up and helped the Cavaliers close out the win over Martin and then added 55 yards on six carries in last week's rain-shortened game at Mansfield Summit.
"Weston has been a guy we felt would play a role for us, but with Sean running like he did, we thought he would be our third-down back," head coach Hank Carter said. "But with [Brown-Nixon] out for a while, Weston's been thrust into that primary role. He made some nice plays and he'll just keep getting better."
With 74 yards on just nine carries in his first two varsity games, Stephens admits he's still getting used to the speed of Friday night football but is getting plenty of help from his teammates, especially the offensive line.
"It's quite different," Stephens said. "The offensive line is doing great right now. We have to work on a few things, but other than that, we've got some good plays lined up going into this game [Friday's District 25-6A opener against Bowie] and we're getting good blocking."
Linemen always appreciate running backs giving credit where it's due, but they also know the backs have to hit the holes when they are there.
"We are opening up holes, but I also think it's our backs being more aggressive," said lineman Chad Wolf. "In the first game we got Seany going and we were able to run it down their throat, but now he's hurt. Weston knows how hit the hole as well, but he may be a little bit more dynamic than Seany. He cuts very well and he can give us more outside runs."
Lake Travis redoubled its efforts to establish a running attack to open the season, hoping to take advantage of defenses that are aligned to stop Lake Travis' passing attack, led by senior receiver Garrett Wilson. Stephens knows Lake Travis' passing ability gives the running game room to operate, and he just wants to do his part to help keep the chains moving.
Arlington Martin and Mansfield Summit both tried to combat Lake Travis' offense with heavy blitz packages, and Stephens expects Bowie to show a similar game plan. Like Summit, Bowie's defense features talented athletes with size, especially up front.
"Bowie's got a really big defensive tackle [Cooper Laake anchors Bowie's line at 6-foot-6, 270 pounds]," he said. "We have to prepare for him and see what happens."
With two quarters of football under his belt as the starter, Stephens knows Friday's game with Bowie will be his first true test. Some teams run to set up the pass, others pass to set up the run. Stephens wants to do his part to ensure Lake Travis continues to do both.
"Just because of the pass and the way we're running the ball right now," he said. "Hud[son Card] is a great quarterback and his ability to throw the ball opens things up for us to run. The line is giving us great holes, which obviously helps me."