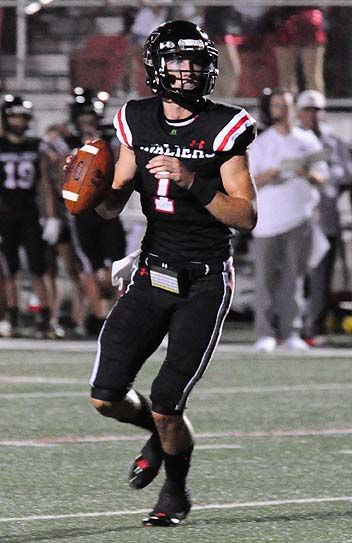 Lake Travis sprints past Akins with first-quarter flurry
Hudson Card connected with Garrett Wilson for a 57-yard touchdown on the first play of Lake Travis' home opener and the Cavaliers treated their fans to a 51-13 win over Akins.
"If you can score on the first play, you want to do that every single day," Wilson said. "We wanted to take care of business."
For the second straight week, Card, Wilson and Lake Travis' offense took care of business early and often. The Cavaliers scored every time the had the ball in the first half. Card threw four first-half touchdown passes and added another score on the ground. Wilson caught two touchdown passes and returned a kickoff 93 yards for another score as Lake Travis (3-0, 2-0 in District 25-6A) cruised.
"I thought our offense was great all night," said Lake Travis coach Hank Carter. "We picked up where we left off last week. Hudson was hitting a lot of guys and they were catching the ball. I thought the line protected real well, too."
Card completed 13 of 18 passes for 165 yards, including touchdowns to Wilson, Kyle Eaves and Cortland DeNisio.
Akins (2-2, 0-2), which got 114 yards rushing and two touchdowns from quarterback Nick Cagle, will be happy its district-opening two-week gauntlet of Westlake and Lake Travis is behind them. The Chaps and Cavaliers outscored the Eagles 118-13 in the two games. The Eagles face Del Valle on Thursday.
The Eagles didn't cross midfield until the second quarter, when Cagle engineered a 75-yard drive that included passes to Greg Borgeson and Antonio Lopez. His 10-yard run brought the Eagles to within 37-7, but Wilson returned the ensuing kickoff for a touchdown.
"I've wanted to run one back all year and that was only the second time all year they've kicked it to me, and both of them were tonight," Wilson said