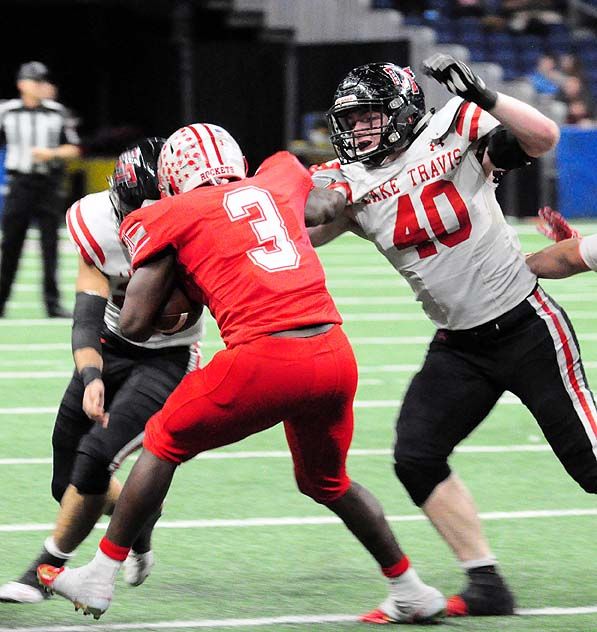 Facing massive Mustang line, highly rated skill players, Lake Travis defense faces another huge test
Coming off one of its best games on what's been to-date the biggest stage of the season, Lake Travis' defense must quickly turn the page to face an even tougher test.
After holding high-scoring Converse Judson to 21 points – nearly 40 below their playoff scoring average – in last week's 38-21 6A Division I regional championship win, Lake Travis faces a similar, if not tougher, test Saturday against Galena Park North Shore. The Mustangs average 54 points per game and 475 yards of offense.
"They look a lot like Judson but with some differences," Lake Travis coach Hank Carter said. "Their offensive line is bigger than Judson's and their two tackles – Damarcus Thomas and Damieon George – are the biggest we've seen all year."
Both Thomas and George look more like college lineman – which they may eventually become. George stands 6-foot-6 and weighs 330, something that hasn't escaped the studious eye of Lake Travis defensive tackle Raleigh Erwin, who'll have to rely more on technique than brute strength to make plays.
"It's a lot on the technique we've been learning throughout the year," he said of battling much larger linemen. "If we'd play these guys earlier, it would be very different. I couldn't say we'd have much success because a lot of us were still learning the techniques, but I think we've gotten really good at our craft at how we face these really big guys."
The Mustangs' "really big guys" pave the way for one of the nation's best running backs in Zach Evans, who averages nearly 12 yards per carry, has gained nearly 1,500 yards and scored 25 touchdowns. Junior linebacker/defensive back Tag Humble, coming off a career-best 14 tackles against Judson, said it will be imperative that linebackers quickly get to the point of attack to try and clog Evans' running lanes.
"With that big offensive line, we've got to fit fast and play fast," he said. "We can't give them the chance to get to the second level. If we can get there before they do, that will really help our line."
Not many teams have slowed, much less stopped, North Shore's rushing attack. The Mustangs own a pair of convincing wins over Katy, blasted unbeaten Dickinson 65-21 early in the playoffs and own a 56-7 regular season win over 6A Division II semifinalist Beaumont Westbrook, who faces Westlake Saturday.
While stopping North Shore's running game has traditionally been a key to taming the Mustangs, their passing game has evolved as well, led by a pair of sophomores. Quarterback Dematrius Davis has passed for 2,811 yards and 36 touchdowns while giving up just two interceptions. He's also very accurate, completing 71.6 percent of his passes.
"He's young, but you wouldn't know it by looking at the film," Carter said. "This is one of the best passing attacks we've seen this season."
Though more accurate passers tend to throw shorter passes, Davis completes longer passes at a high rate. He averages more than 21 yards per completion – Lake Travis quarterback Hudson Card completes 71 percent of his passes and averages 14 yards per completion. North Shore receiver Shadrach Banks, another sophomore, averages nearly 23 yards over his 48 catches, 15 of which are touchdowns. Three other receivers also average better than 18 yards per grab.
Covering talented receivers won't be anything new for the Cavaliers, Humble said.
"Practicing against our offense really helps," he said. "We've got one of the best passing offenses in the state and our guys run a lot of routes. We've been playing against that all year, so they won't give us anything that we haven't already seen."
Slowing third-ranked Judson gave Lake Travis' defense confidence. Will carrying that confidence through against the state's second-ranked team be enough for the Cavaliers to reach their fourth consecutive state championship game? That's the plan, Erwin said.
"[Beating Judson] gave us the confidence against these teams that are really athletic that by doing our job and doing what our game plan is, we can do a lot better [than people may think]," he said.