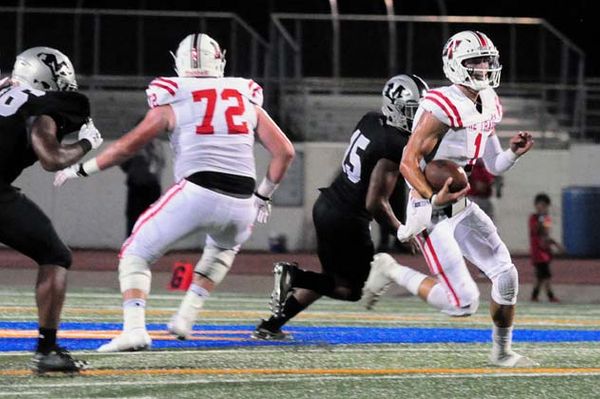 Cavaliers' offensive line paves way for renewed rushing attack
Through two weeks, Lake Travis has leaned on a revitalized rushing attack to keep defenses from Arlington Martin and Mansfield Summit on their heels.
In a 35-14 season-opening win over Martin, Lake Travis rushed for 131 yards – modest by some standards but a big number for the Cavaliers, who leaned heavily on the pass last year. Last Friday, Lake Travis was on pace for another 130-plus yard night before lightning stopped the game at Summit.
Lake Travis coach Hank Carter said based on the way teams have defended the Cavaliers' big-play passing attack, a focus on the running attack could continue.
"It's kind of like the game Risk," Carter said. "Where do you want to put more of your troops? If they put more of their troops to defend the pass, then there will be opportunities for big plays in the running game."
Both Martin and Summit decided they'd defend Lake Travis by dropping enough players into coverage to force Garrett Wilson, Grayson Sandlin, Jeremiah Patterson and Kyle Eaves to work to get open and sending everyone else on all-or-nothing blitzes at quarterback Hudson Card. The strategy's worked at times, but not over the course of a full game.
"Arlington Martin blitzed a lot, they were a big blitz team," said junior offensive lineman Dawson Weiss. "I think we were still struggling to pick up our assignments and adjust on the run."
While Card's spent more time than his offensive line would like escaping pressure, the Cavaliers have hit their share of big plays.
"I think that when teams try to pressure and stunt like we've seen the first two weeks, it is a risk-reward by them," Carter said. "So, sometimes they blitz right into it when we run and when we pass, which makes it difficult on our blocking. Sometimes they blitz wrong and that leaves the potential for a big play in the running game if they guess wrong. We fit that stuff up pretty well, especially last week."
Card and Wilson beat Martin's blitz on the second play of the opening game, resulting in a 48-yard gain. Card and Eaves connected on a 42-yard touchdown pass when a safety blitz left the receiver in single coverage. Running back Sean Brown-Nixon creased the defense for a 33-yard touchdown run when blitzing Martin linebackers left a path to the end zone, and sophomore running back Weston Stephens found room to run when he got outside of the blitz against Summit.
Returning line starters Weiss and Chad Wolf know opponents will continue to bring pressure. They continue to work, along with first-time starters Todd Moon, Payton Maxwell and Judge Niland, at improving their overall technique so the Cavaliers can run and pass with equal confidence.
"I think that's definitely a fair thing to say, that we've been more successful blocking for the run than the pass," Wolf said.
"We just need to focus more on our technique and focus on our depth, Weiss said. "The deeper we can get set, the more time we have to see the pressure coming."
And while Smith, Maxwell and Niland are learning as they go, the entire group will benefit when Andrew Salem returns from injury. A starter last season, Salem's missed the first few games with a back issue but should return in the next few weeks.
"Andrew adds another guy who's been there before," Wolf said. "He adds more experience and will help bring the younger guys along even more."