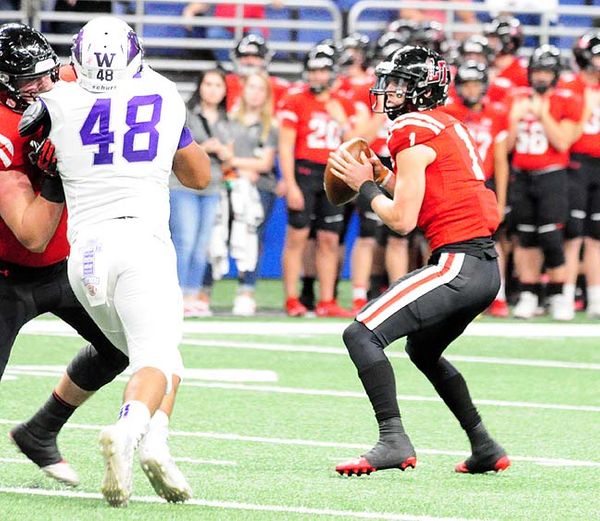 Cavaliers enjoy Card's hot hand in record-setting playoff win
Originally published in the Austin American-Statesman
For at least one possession Saturday afternoon, Weslaco's defense looked every bit the stingy unit that entered the 6A, Division I, Regional semifinal allowing just 11 points per game.
The Cavaliers struggled to block defensive end Seth Sanchez, who spent those first few plays in Lake Travis' backfield, eventually forcing Cavaliers' quarterback Hudson Card to lose a fumble. But that proved to be the extent of the Panthers' defensive success.
Lake Travis recovered from the uncharacteristically shaky start – the Cavaliers fumbled three times in the first four minutes – and Card turned in a record-tying performance as the Cavaliers built a 49-0 halftime lead en route to a 56-14 win.
"That first drive was a little bit shaky, but we cleared it all up," Card said. "From the second drive on, that was pretty awesome. We started out sloppy but we improved throughout the game."
Card misfired on three of his first six passes, then got hot, beginning with a 13-yard touchdown pass to Garrett Wilson that got the Cavaliers on the board with 6:32 left in the opening quarter. The touchdown started a stretch of 14 consecutive completions, seven of which went for touchdowns as the junior picked apart Weslaco's secondary.
"Of course we've seen that before," said receiver Kyle Eaves, who caught four passes for 151 yards and two of the touchdowns. "He's great. I'm so lucky to have him as my quarterback. He's definitely a star."
When Card wanted a big play, he turned to Eaves. Three of the receiver's four catches went for 30 yards or more, including both touchdowns. When Weslaco's defense dropped off and tried to keep the likes of Wilson, Eaves, Grayson Sandlin and Lake McRee in front of them, Card dropped the ball off to running back Weston Stephens, who caught five passes including two touchdowns.
"I love getting out and catching passes," Stephens said. "When you catch a pass, most of the time you're in the open field and that gives you time to make something happen."
Stephens found so much space on his two touchdown grabs – a screen pass that went 23 yards and a swing pass that went eight – that the Panthers never laid a hand on him.
"When Hudson is on his game, it's pretty easy for the rest of us," Stephens said. "He makes plays with his feet and that gives us more space to carry the ball or run our routes."
Card finished with a career-best 357 yards and the school-record tying seven touchdown passes. Matthew Baldwin threw seven touchdown passes last year against Hays, and Garrett Gilbert threw seven against Beeville Jones in a 2007 playoff game in the Alamodome. Card's 14 consecutive completions matched his mark against Del Valle earlier in the season. He also had streaks of at least 10 straight completions in games against Lehman and Austin High. On the season, Card's completing 73 percent of his passes.
After watching understudies Peyton Janecek and Nate Yarnell – who threw a touchdown pass in his first varsity action – play the second half, Card had all but put the game behind him.
"These games are always fun," Card said. "We'll celebrate it today and tonight but then we've got to get ready for next week."
The competition steps up considerably when Lake Travis makes a return trip to the Alamodome to face third-ranked Converse Judson. The game will be the fourth meeting between the teams in the last three years. Lake Travis won the most recent meeting, 47-39 in the Area round of last year's playoffs.