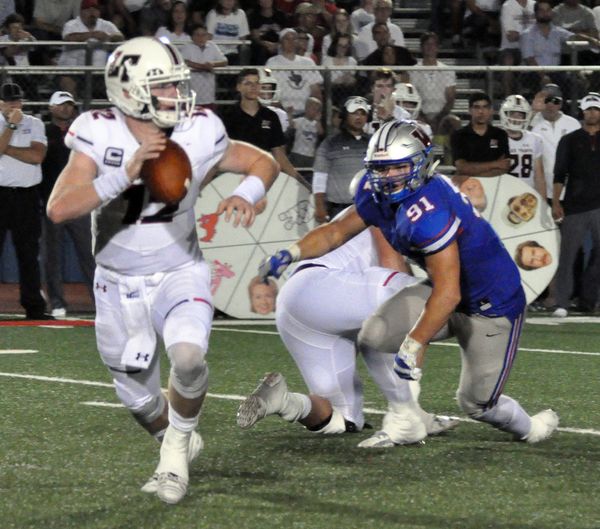 Battle of big men -- Lake Travis' OL vs Westlake's DL -- will likely decide rivalry showdown
Lake Travis coach Hank Carter knows the staple of his best teams. His Cavaliers have always had college-level talent at quarterback, but his truly great teams have dominated the line of scrimmage.
"When we win championships, there are a lot of reasons we do that, Carter said before the season. "But when we've been dominant up front, we've been tough to beat. We've got to find a way to get back to that."
Both Lake Travis and Westlake have plenty of athletic, talented players spread around the field at skill positions, but game will likely be decided on what happens within two yards of the ball. In 2017, Westlake's defensive line controlled play, pressuring Lake Travis' Matthew Baldwin relentlessly. As a result, Lake Travis' offense struggled to get going and Westlake earned a 21-14 win, ending a 10-game series losing streak in the process.
The Chaps again feature an imposing defensive line, anchored by 6-3, 255-pound senior David Neil, who seemingly spent as much time in Lake Travis' backfield last year as did Baldwin. Senior Trellis Collins, another sizable senior at 6-3, 270, lines up alongside Neil. Through five games this season, they've anchored a defense that's allowed just 38 total points by combining for 49 tackles and four sacks.
While Westlake suffered an early loss to Cy-Ranch, the Chaps have improved each week since, shutting out their first three District 25-6A opponents and looking solid on both sides of the ball.
"From what I've seen, their offensive line looks like it's gotten better every week," Carter said. "They are playing at a much higher level than they were earlier in the year. Defense is one of the strengths of their team and it's something they've hung their hat on. They have a lot of experience and some guys with some ability."
Like "that other group across the lake," -- Carter does his best Urban Meyer impersonation, the Ohio State coach refuses to mention rival Michigan by name, as does Michigan coach Jim Harbaugh -- Lake Travis has continually improved. The starting offense has scored on 26 consecutive drives, but for that continue, Carter knows his offensive line will have to deal with the strongest unit on Westlake's team.
"They do a great job with their defense, their front particularly," he said. "I think our offensive line has gotten better every week."
The Cavaliers started the season with a patchwork line. Tackle Chad Wolf missed the bulk of the preseason with injuries, and guard Andrew Salem didn't return until the season's fourth game. Salem, along with center Peyton Maxwell and guard Todd Moon, will be the Cavaliers' first line of defense against Collins and Neil. Wolf and Dawson Weiss will focus on Westlake defensive ends Bobby Duncum and Connor Nelson while keeping one eye focused on the inside.
Westlake will also rely on William Robertson and Braden Davis as part of the defensive line rotation. Jake Ehlinger and Blake Chambers are adept at rushing the passer and stuffing the run from their linebacker spots.
"Their defense is always very aggressive," Carter said. "We didn't handle it well last year. Hopefully we'll handle it better this year."