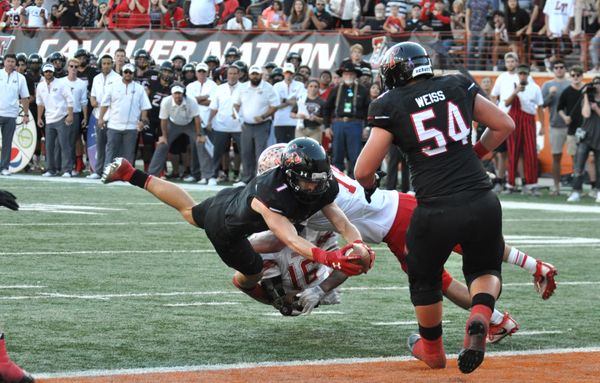 After stellar season at receiver, Card prepares to become next LT quarterback
Having played in eight state championship games since 2007 with keen eye towards a ninth – and fourth straight -- Lake Travis' football coaches evaluates spring practice with a different eye than coaches most anywhere else across the state.
"We're learning," head coach Hank Carter said in the way of assessing his team's first week of practices. "It kind of looks like football."
Like most other schools, the Cavaliers have a list of things they want to accomplish before breaking for 7on7 season. There are position battles, and the offense must continue to soak in new offensive coordinator Will Stein's system.
But unlike other schools, the Cavaliers are attacking spring with arguably the best skill player in the state – 5-star Ohio State pledge Garrett Wilson -- and a quarterback with a list of offers that includes Texas, Alabama, Oklahoma State and, yes, Ohio State, all before he's taken over as the Cavaliers' starting quarterback in Hudson Card. New offensive coordinator Will Stein also welcomes back three starters on the line. All that experience is helping speed the transition process, Carter said.
"It's a lot of learning offensively," Carter said. "There's new terminology with Coach Stein coming in, so most guys are not playing as fast as they want to, but I think every day we picked up more and more and became sharper and sharper."
By the time May 18 rolls around and the Cavaliers hold their annual Spring game, Carter expects his offense to be clicking on all cylinders. Priorities include settling on a running back rotation – injuries have slowed that process thus far as Shauny Brown-Nixon, a third-generation Cavalier, battles a pair of freshmen for starting honors. Kyle Eaves has transitioned from cornerback to receiver and has had a solid start working opposite Wilson.
"We've had a lot of kids do some great things," Carter said. "Kyle Eaves had a really good scrimmage [last Thursday] working mainly at receiver. It goes without saying that Garrett is having a fantastic spring. Everything is new to him too, and he's getting after it."
While Carter and the coaches focus on the big picture, many eyes will be trained on junior-to-be Card as he transitions to the most prominent position on the field. Labeled the next big Lake Travis quarterback – as his growing offer list projects – Card has taken the role with both hands and run with it, separating himself from a talented group of quarterbacks that include sophomore Peyton Janecek and freshmen Nate Yarnell and Lake McCrea.
"Hudson has shown that he's earned the majority of our number one reps," Carter said. "People ask me how much receiver he's going to play next season. Right now Hudson's playing better than anyone else at quarterback and if that continues, I don't think he'll play anywhere else but quarterback."
For Lake Travis' quarterback pedigree, which now includes a Heisman Trophy winner and the top pick in the NFL draft, Card brings a unique set of skills to the position, Carter said.
"Hudson gives us an element that I don't know that we've really ever had, which is crazy to say based on the quarterbacks we've had come through here," the coach said.
Card could earn Division I scholarships at any of four positions, Carter surmises, but quarterback's where he'll shine brightest.
"He could play safety, corner, receiver or quarterback, but I'd still say he's better at quarterback than any of the others," Carter said. "His arm strength has improved since the fall. He's got to get better at getting off his number one read, but that's the same thing we were seeing from Matthew Baldwin a year ago. It just comes with reps."
Lake Travis' coaches have also been pleased with the young quarterbacks trying to wrestle first-team reps away from Card.
"There's plenty of guys who can spin it back there," Carter said. "It will be a fun next few years."
Janecek, another talented athlete, took his shared of first team reps in last week's scrimmage.
"He reminds me of [former receiver/punt returner] Carson Pepe with his stature, his mentality and his explosiveness, but he's a quarterback," Carter said of Janecek.
Just a freshman, the 6-foot-5 Yarnell stands tall in the pocket, much like Baldwin, but he can move when necessary. McCrea, Carter said, reminds him of former Oklahoma quarterback-turned-tight end Blake Bell.
"He reminds me of the Bell-dozer when he was at Oklahoma," Carter said. "He can really throw it, and he's a big brusier."
Who does Carter compare Card with?
"To me, Hudson reminds me a lot of the [Jarrett] Stidham kid at Auburn but Hudson may be a better athlete," the coach said.
The 5-star rated Stidham finished his high school career at Stephenville as a three-time all-state selection, earned Under Armour All-America honors and was the nation's top ranked dual-threat quarterback.