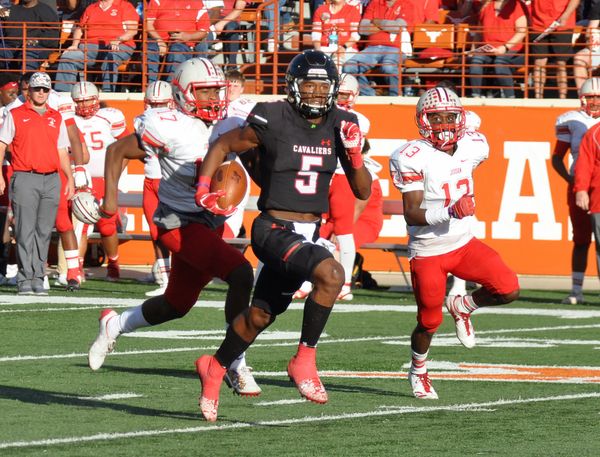 With 'whatever it takes' mindset and 'wow' ability, Wilson leading Lake Travis on playoff run
As part of Lake Travis' 41-13 win over The Woodlands in the 2016 6A, Division I state championship game, Garrett Wilson gave Texas high school football followers – not to mention college coaches looking for the next big prospect – a glimpse of things to come.
The youngest starter on a team laden with FBS-level talent, Wilson caught a touchdown pass, threw a touchdown pass and blocked a kick for good measure. The performance clued the rest of the state in on what Lake Travis fans and coaches already knew: Wilson would be a dominant force in his junior and senior seasons.
"Garrett gets a lot of attention because of his ability and the things that people see him do, the wow moments," Cavaliers' coach Hank Carter said after Wilson delivered another wow performance to help Lake Travis defeat Converse Judson in the second round of the playoffs.
Playing at Royal-Texas Memorial Stadium, Wilson caught three touchdown passes and added a fourth rushing, added a two-point conversion and played the majority of the game at cornerback to boot. Despite not playing after halftime in a handful of games, Wilson's turned in a season for the Lake Travis record books.
His 26 touchdown catches are a single-season record. The 30 total touchdowns he's scored rank third on the single-season list. He's scored 12 touchdowns in the Cavaliers' four playoff wins. His 1,558 yards and 83 catches both rank among the five best single-season totals in school history. His 40 career touchdown catches rank second, and he ranks in the top six on the career list for receptions and receiving yards.
While the numbers and accolades give onlookers something to talk about along with the wow moments such as his 73-yard touchdown catch against Judson or his leap over the line of scrimmage to block an extra point against The Woodlands, Wilson doesn't care about anything other than being the best teammate he can be and helping the Cavaliers win.
"I will do whatever my team asks me to do," Wilson said. "If that means catch a few balls, catch a lot of balls or catch no balls and block every play, I'm going to do that."
Offensive prowess aside, that has also meant playing more than the occasional snap on defense, where Wilson has started to turn heads as a cornerback. He ranks second on the team with three interceptions, including two against Westlake, and made a key, late-game tackle in a win over Cibolo Steele. He played significant amounts of defense in playoff wins over Judson and O'Connor, and Carter raves about Wilson's willingness to play even more.
"The things that he's doing, his willingness to jump in and help wherever he's needed, that's pretty uncommon," Carter said. "Receivers are running all practice and they're running all game. For him to always say, 'yeah coach, I'm ready,' even when he's exhausted during a game, I've really appreciated his attitude about it.
"When he comes in on defense, he guards the other team's best player," Carter continued. "He's had an amazing attitude about that. We may have given him one defensive series off [after he suffered a bout of cramps against Judson] but then he was right back out there playing both ways."
Carter isn't the only one who's noticed. Wilson, a 4-star rated college prospect, has already accumulated a drawer full of college offers, including many from the blue-blood programs such as Florida State, Ohio State and Texas with more surely to come. Wilson's in no hurry to make a decision.
"I'm going to take my time with the process and take all my visits," Wilson said last week. "Next year I'll be ready to make that decision, but right now I'm focused on this team and basketball season coming up after that. I have to focus on my teammates. I owe that to them."
When not on the gridiron, Wilson's delivered his share of wow moments for the Cavaliers' basketball team, including a buzzer-beating shot to knock McNeil out of the playoffs during his freshman season. He averaged nearly 18 points per game to lead the Cavaliers as a sophomore and plans on trading his cleats for his high-tops as soon as football season ends.
"I talk to the basketball team every week," he said. "Those are my boys. I've been playing with those guys since sixth grade. They're having a good year. I'm proud to see that."
But presently the focus sits squarely on Katy, whose stingy defense figures to focus at least two defensive backs on Wilson with orders to make Matthew Baldwin utilize secondary and tertiary options. But extra attention isn't something that's bothered Wilson all year.
"They aren't going to let one guy beat them," Carter said of the unbeaten Tigers. "It will take everything we've got. I'm sure they'll pay extra attention to Garrett, but he's seen two and three guys on him all year and still made plays."
Wilson's played big in the Cavaliers' biggest games. In three games against state-ranked Judson and Westlake, Wilson's caught 25 passes for 437 yards and five touchdowns, showing off his desire to compete when the lights are brightest.
"The thing that people will learn, that we've come to know, is he is as gritty a competitor as any kid that's ever played here," Carter said. "He competes like Baker [Mayfield, the current Heisman Trophy winner], he competes like Andy Erickson did, like an Ian Lazarus. He is a tough-as-nails competitor."
Wilson's success belies the fact that he's still learning the nuances of playing the receiver position. Through his freshman season, he played quarterback. He's been a natural fit at receiver and continues to work at improving the most basic of receiving skills.
"My route-running and my blocking," he said. "Having an extra year of it now, last year I was still new to the position. I feel like I've grown a lot at the position."
Wilson's getting more comfortable in that role. He's often the lead blocker when Baldwin throws quick outs to Alec Fuentes, and Wilson still recalls the block he delivered in the Westlake game to spring Baldwin for a touchdown.
"They don't take blocking lightly here," he said. "You have to be able to be an unselfish teammate and block."
Whatever it takes to help his team win, even when outsiders don't think they can, remains the high-flying Wilson's motivating force.
"There aren't a lot of people who expect this from us this year," he said. "We go into some games being the underdog and we're not used to that. Knowing that people are doubting us, we put that on each other to go out, compete hard and perform."
From his spot on the sideline, Carter will enjoy watching the process play out.
"We just want Garrett to keep it up and keep making plays," he said. "He's pretty fun to watch. The sky's the limit for him."