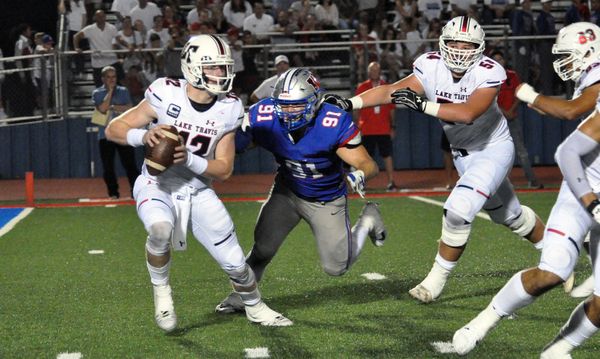 Westlake's defense ends Lake Travis' dominance
A battle of offensive powerhouses turned into a defensive struggle, and Westlake's defense stood taller in the end.
The Chaps (who averaged 44.8 points per game coming in) held Lake Travis (50.2) without a second-half point and stopped Garrett Wilson inches short on a final fourth down try in a 21-14 win Friday night. Westlake's win snapped a number of Lake Travis streaks, most notably a 10-game winning streak in the series that began in 2006. Lake Travis hadn't to Westlake since 2007.
Westlake limited Lake Travis to a season-low 245 yards of total offense, including minus-four rushing, and put the Cavaliers in long third down situations throughout the game.
"We kept finding ourselves in third and long," said Lake Travis offensive coordinator Mike Wall. "That is a down and distance we would normally like to avoid."
Lake Travis faced 12 third downs on the night and converted only three into first downs. Seven times the Cavaliers found themselves facing third-and-10 or longer.
"They had a very good plan and they executed their defense better than we did our offense," Wall said.
Westlake sacked Lake Travis quarterback Matthew Baldwin three times and intercepted him twice. Westlake forced Lake Travis into six three-and-out possessions, including all three of the Cavaliers' third-quarter possessions. Baldwin's first five passes fell incomplete, including a pair of drops that could have gone for long gains.
"We had opportunities to score early," he said after the game. "There were times when I got too comfortable and Westlake took advantage of that."
By stopping Lake Travis' running game, which had struggled to find footing throughout the season, with only five defenders near the ball, Westlake could match-up with Lake Travis' receivers and pay extra attention to Wilson, especially as the Cavaliers tried to tie the game late.
Wilson caught seven passes, but only one gained more than eight yards – his 74-yard touchdown late in the first quarter. On fourth and six in the final minute, Wilson caught a Baldwin pass short of the first-down marker and couldn't get past a pair of tacklers, coming up inches short.
Westlake's defensive effort ranks as one of the best against Lake Travis in recent memory. Lake Travis managed only six first downs didn't score in the second half for the first time since the 2015 6A, Division 2 title game against Katy. Lake Travis' 14 points Friday are the lowest since Katy allowed just seven. Since moving up to the 6A (then 5A) ranks in 2012, Lake Travis has scored less than 20 points in a game just six times in 75 games.
In addition to snapping Lake Travis' 10-game series win streak, Westlake ended a 20-game stretch in which the Cavaliers had scored on their first possession and a 41-game district winning streak that dates back to 2011.