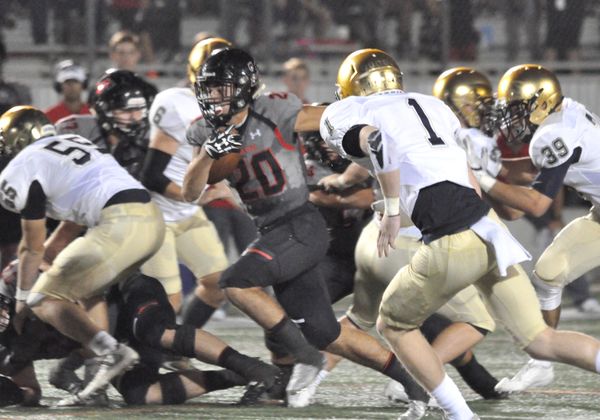 Quick strikes, kickoff returns help Cavaliers outscore Dallas Jesuit
Lake Travis' quick strike offense overcame a shaky defensive effort in a 64-45 win over Dallas Jesuit Friday night.
The Cavaliers scored five touchdowns on drives of four players or fewer and also returned two kickoffs for scores. Lake Travis' outburst pulled the team to its second straight win on a night where the defense allowed more than 600 yards for the second time in three games. Jesuit's array of quick passes and delayed runs kept Lake Travis' defense on its heels – and on the field – for much of the night.
"I think it's pretty obvious that we have a long ways to go," Lake Travis coach Hank Carter said after Jesuit gained 616 yards of offense. "Defensively, we just didn't play well."
That's been a repeated theme early on this season. Since 2007, the Cavaliers have played 150 games (winning 138) and have allowed more than 30 points only 21 times, never more than three times in a single season: 2007, 2010 and 2017. While the Cavaliers have won 14 of the 21 games in which they've allowed 30 points, Carter would like to see that trend end soon.
"It's not any one thing," he said Friday night. "We're not playing physical enough, we're not playing smart enough, and we're going to go back to work in the morning, getting after it."
Though the defense struggled, it came up with timely stops early in the second half, giving the ball back to the offense and seeing the lead stay anywhere between 12 and 19 points. Matthew Baldwin capped a quick, 4-play drive with a 51-yard pass to Garrett Wilson to push the lead to 43-24, then connected with Wilson for a 39-yard score one play after a Jesuit punt. The quick strikes, while helpful on the scoreboard, proved to be a double-edged sword for a defense that spent the bulk of the night on the field – Jesuit ran 90 plays to the Cavaliers' 39.
"We were scoring offensively in big plays and we had two return touchdowns," Carter said. "That's kind of how it goes. I'm sure that's not a great feeling for those defensive kids who are tired already, but we'll take the points however we can get them. If we score 64, we're probably going to win a lot of ball games."
Baldwin finished with 302 yards passing and four scores – all of which covered at least 39 yards – and added a 21-yard run to boot. Nick Villareal added a 49-yard touchdown run, and Kyle Wakefield scored on a 69-yard pass and a 26-yard run. Wilson's 79-yard kickoff return touchdown helped the Cavaliers erase a 10-3 deficit, and Nathan Parodi's 82-yard return to open the second half gave Lake Travis a 36-24 cushion that Jesuit could never shrink.
The Rangers had plenty of big plays of their own. Parker Towns hit Fletcher Rosenbleeth for a 56-yard touchdown to open the scoring and finished with 379 yards. Matthew Priddy scored four touchdowns, two on runs of 62 and 29 yards. While the Cavaliers' inability to build on last week's improvements against Steele may frustrate Carter, he's not going to forget the fact that the Cavaliers beat a Jesuit team that has playoff potential despite a slow start.
"Here's the deal," he said. "We won the game against a talented team. Had we won 6-0 or 60-0, there would be a lot of things we would have to get better at because it's the third game of the year."