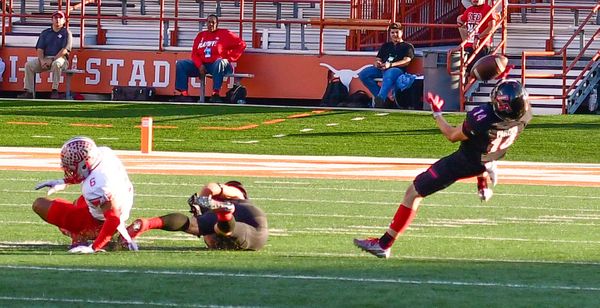 Parodi's acrobatic playoff interceptions remind him of childhood game
Nathan Parodi had no idea that a childhood game would prove so beneficial on the football field.
In each of Lake Travis' playoff wins, Parodi has come up with interceptions that have led to key Cavalier touchdowns. His first quarter interception set up an early touchdown against Madison, and his fourth-quarter interception led to the go-ahead score in Saturday's comeback win over Judson.
The interceptions haven't been the run-of-the-mill, jump-in-the-passing lane and simply beat a receiver to the ball. After three traditional interceptions in the regular season, both of Parodi's playoff picks have come off tipped passes and involved reaching, one-handed grabs while lying on his back.
"It's partially luck, partially focus," he said. "I guess the pieces fall together in the correct order and you can come down with it."
If there's any skill to tipping a pass and catching it one-handed before it hits the turf, Parodi guesses he began practicing these catches about a decade ago.
"I guess it goes back to when I was a little kid and we would play around and play this jump-ball game," he said. "You just throw the ball up. There's like 10 guys there and whoever comes down with it wins. There's a lot of tipping during that, so I guess that's where it comes from."
Regardless of where it came from, the skill has come in quite handy for the senior who now has five interceptions on the season.