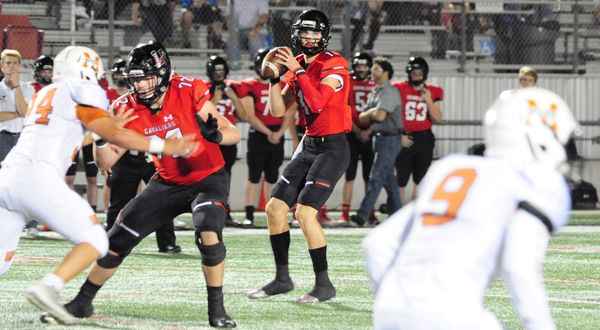 No Baldwin, no problem: Card proves Lake Travis' ace in hole against Madison
Hudson Card stepped in for the injured Matthew Baldwin and led Lake Travis (9-2) to a 49-14 Bi-District playoff win over San Antonio Madison (4-7).
"I was a little nervous before the game, but then I always get a little nervous," Card said of his debut at quarterback. "But once the first play goes by, it's just football and the nerves go away."
His defensive teammates eased his transition early with Nathan Parodi's interception near midfield and Ty Badciong's blocked punt deep in Madison territory. Card jettisoned any pre-game nerves with a 49-yard touchdown run on his fourth play at quarterback. By halftime, the Cavaliers had opened up a 35-14 lead thanks to three touchdown passes and another touchdown run by the sophomore quarterback. After an early incompletion, he connected on eight of his next nine passes.
"I think he did pretty dang good," Lake Travis coach Hank Carter said. "I thought he stood in there and played tough, made a lot of good throws and a lot of good reads. I think he played exactly like we thought he would. He's an amazing player."
Card finished 13 of 18 for 156 yards and three scores and rushed for 165 yards on 12 carries to spark the Cavaliers' attack.
"We played well as a whole," Card said. "The defense did well. The line played well. It was a good win for us."
Thanks to Parodi's interception and Badciong's blocked punt, Card hustled the Cavaliers to a 15-0 lead. He hit Carson Cross for a nine-yard score following Badcong's block, then hit Cross again for the two-point conversion.
"It's always a good feeling to be able to get into things very quickly," Card said. "The defense put us in position and it was good to put up and early lead."
After Madison cut the lead to 22-14 on touchdown runs by Christian Hernandez and Dante Heaggans, Lake Travis scored four straight touchdowns to pull away. Card added a pair of touchdown passes to Garrett Wilson, and Nick Villareal and Russell Thamm also ran for scores in Lake Travis' win.
Lake Travis' defense held Heaggans, Madison's explosive quarterback, to just 70 yards passing and 91 yards rushing. He threw a pair of interceptions and lost a fumble.
"For the most part we did a good job," Carter said. "They hit us on a few plays here and there, and there were plays where we would hit them and let them get a few extra yards. That adds up, and we've got to be better than that next week."
The win marked Carter's 100th career victory, all with Lake Travis.
The Cavaliers advance to the Area Playoffs and will face Converse Judson on Saturday, Nov. 25 at Darrell K. Royal Memorial Stadium at 2 p.m.
"I'm excited that our kids get a chance to go play at UT," Carter said. "That will be great. But obviously Judson is a great team and they are rolling. We want to get another crack at them."
Judson defeated Lake Travis 65-45 in the season opener. Baldwin made his first start in the opener and passed for 435 yards. Carter hopes he'll be back in action and Card will be back catching passes rather than throwing them.
"Hopefully we can get most of Hudson's reps back at receiver and get Matthew out there."