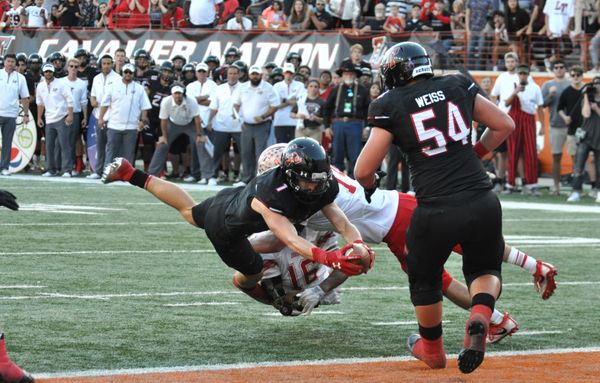 Comeback enables Cavaliers to avenge season-opening loss to Judson
Resilient Lake Travis overcame a halftime deficit for the first time this season and defeated Converse Judson 47-39 Saturday afternoon.
Lake Travis overcame a 26-14 second-quarter deficit to avenge a week one 65-45 loss to the Rockets.
"It started out a lot different, but at times it started looking like it was going to be the same old deal," Lake Travis coach Hank Carter said.
Lake Travis jumped out to a 14-3 lead on touchdown passes from Matthew Baldwin to Hudson Card and Garrett Wilson, but the Rockets soared back into the game in the second quarter. Julon Williams broke free for a 72-yard touchdown run that started a 23-0 run for the Rockets. Following a safety and an interception, Williams added a nine-yard run and the hit Kishaun Fisher for a 35-yard score.
The Cavaliers stemmed the tide before halftime. Mauricio Trevino recovered a fumble that led to a 48-yard field goal from Cameron Dicker.
"Cameron Dicker came up big for us tonight," Carter said. "I know he missed a field goal, but the one he made was huge and I have a feeling he's going to have some big kicks in his bag down the road."
Lake Travis' defense did enough to thwart a late Judson drive and head to halftime trailing 26-17. Despite holding Judson on that final second-quarter possession, the defense still needed a pick-me-up at the half.
"We went into halftime with our heads down a little bit, but we've got some leaders in the locker room helping us, motivating us," said Nathan Parodi. "All it takes is one play, and that got us fired up again."
The play came early in the third quarter. On third and 12, Wilson got behind Judson's defense and caught Baldwin's pass for a 73-yard touchdown. Following Carson Cross' two-point conversion, the Cavaliers trailed just 26-25.
Not wanting to give up momentum, the Cavaliers rolled the dice with an onside kick, but the Rockets recovered. Three plays later, Williams hit Fisher for a 42-yard score to push the lead back to 33-25, but the Cavaliers never ceded the momentum.
"The momentum part of the game was huge," Parodi said. "From there, we had the momentum and we carried it through to the end of the game."
Wilson's 38-yard kickoff return gave the Cavaliers good field position. Baldwin found Wilson twice and hit Card as the Cavaliers marched to the Judson one. Following a penalty, Baldwin hit Wilson with a quick toss and the receiver used blocks from Cross and Alec Fuentes to score his third touchdown and close the gap to 33-31.
The Cavaliers again opted for the onside kick, this time proving successful as Dicker beat the Rockets to his quick, bouncing kick.
"We pulled out all the stops," Carter said. "We kind of figured we might have to steal a possession. We had a plan for that. Our real good onside kick didn't work, but we went to our number two and it worked out."
That drive came up empty, though, when Dicker missed a 46-yard field goal on the first play of the final quarter.
Judson, which gained 381 yards in the first half, quickly moved across midfield before Parodi made an acrobatic interception, giving the Cavaliers another chance trailing 33-31. Baldwin completed five straight passes, including two to Fuentes, and the Cavaliers again marched to the Judson one. Card took a pitch from Baldwin, made a cut and dove into the end zone for the go-ahead score. His two-point catch gave the Cavaliers a 39-33 lead, one they'd never relinquish.
Lake Travis' defense continued to buckle down and forced a Judson punt. The kick never came as the snap went over Sincere McCormick's head. Wilson ran for a 5-yard touchdown on the next play, then caught a two-point conversion pass to stretch Lake Travis' lead to 47-33.
The Rockets responded quickly and recovered their own onside kick, but their final drive stalled when Kade Langston sacked Williams on fourth down. Langston broke through the line and pulled Williams down by his jersey.
"We wanted to end the game right then, we had to," Langston said. "[When I had him and he started to slip away], I was just thinking 'oh lord, somebody come get him.' It was like trying to hold him in a rabbit trap. It wasn't just me with the sack. It wouldn't have happened without the defensive ends forcing him straight back. It really was a team sack."
After allowing nearly 400 yards in the first half (after allowing 753 yards to the Rockets in the season opener), the Cavaliers allowed just 128 yards after halftime in pulling off the comeback.
"It was a great atmosphere and there's no better feeling than beating a quality opponent in a close game especially when you have to come from behind," Langston said. "There's just no better feeling than that."
After seeing the ball just once in the first quarter – on a handoff – Wilson sparked the Cavaliers secen catches for 129 yards and three scores while adding a fourth on the ground. Card caught eight passes for 112 yards and the opening touchdown in addition to rushing for the go-ahead score. Baldwin overcame a second-quarter interception to pass for 295 yards and four scores.
"We always have confidence that our offense is going to score," Carter said after his team topped the 40-point mark for the tenth time this season. "What a game. I'm so proud of my kids. They fought their butts off and it was awesome."
With the win, Lake Travis (10-2) advances to the regional semifinals for the third straight year and ninth time in last 11 seasons. The Cavaliers travel to Los Fresnos (9-3) to take on the Falcons Saturday at 1 p.m. The game will be a rematch of last year's regional semifinal. Playing at home, Lake Travis topped Los Fresnos 64-7.