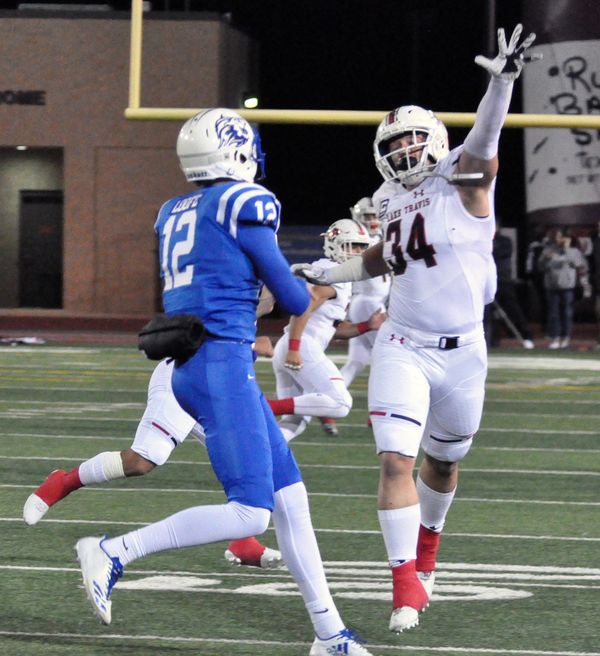 Cavaliers welcome more explosive Madison team for bi-district rematch
Friday night begins what, more often than not in the last decade for Lake Travis, has been a six-game run at a state title.
The 8-2 Cavaliers host 4-6 San Antonio Madison in a bi-district playoff, just as they did last season, kickstarting a run that led to the school's sixth state title. But neither the Cavaliers nor the Mavericks much resemble the teams that met in 2016, a game Lake Travis won 56-7.
With a new coaching staff, Madison brings a new-look offense up from San Antonio, moving into the 21st century with a power spread that Lake Travis coach Hank Carter said resembles the type of offense that Vandegrift and Converse Judson used against his team. The Mavericks score nearly 39 points per game.
"The biggest difference is the offense," Carter said. "It's a spread with really good skill players. They score a lot of points, especially recently."
Unlike Vandegrift quarterback Justin Moore, who chose mostly to pass when given a run-pass option, Madison quarterback Dante Heaggans prefers to use his legs. He's rushed for 1,321 yards and 22 touchdowns on the season. While he prefers to run, he has been effective as a passer as well, completing 61 percent of his passes for 1,672 yards and another 17 touchdowns.
Jalen Battles, a 6-foot-3 senior, gives Heaggans a tall target on the perimeter. Battles caught 37 passes for 784 yards and eight touchdowns. Treveon Tippins gives Madison a versatile threat out of the backfield.
"He can throw it but man, he will take off," Carter said. "They are a little more dynamic and have a lot more speed than what we've seen lately. That creates space and they get their kids the ball in space and are having success doing that."
The Cavaliers will need to be disciplined with their pass rush, keeping Heaggans from breaking containment and gobbling up yardage.
"We need to contain the quarterback," said defensive tackle Kade Langston, one of the Cavaliers' primary pass rushers. "He's a fast guy."
While the Mavericks haven't had much trouble scoring points since falling to Steele 36-3 in the season opener, defense has been an issue. The Mavericks give up an average of 36 points per game and surrendered at least 30 in a game six times. A 21-14 loss at Westlake aside, Lake Travis has scored at least 34 in every game and has scored no less than 40 over a current four-game winning streak.
"We need to focus, play smart and continue to play the way we're playing right now," said quarterback Matthew Baldwin. "We came out fast against Vandegrift. We need to play like that the whole game Friday and not get comfortable with a lead – I think we got a little comfortable when we got up 21-0 last week. We can't afford to do that this week."
Lake Travis' offense faces an early question Friday. Baldwin, fresh off receiving scholarship offers from Ohio State and Minnesota, sprained his left ankle late in last week's win over Vandegrift and has spent nearly every non-class waking moment receiving treatment. He said Tuesday he expects to play Friday. Carter said the staff would evaluate Baldwin's mobility if he was able to practice Wednesday.
"It stinks that it happened, but that's part of the game," he said. "I've been able to do a little bit more each day. I ran a little [Tuesday]. I should be good to play Friday."
The senior quarterback is eager to make his first post-season start and push his season as far as he can. In typical Lake Travis quarterback fashion, Baldwin passed for nearly 3,000 yards in the regular season with 34 touchdowns. He threw early touchdown strikes to Garrett Wilson and Kyle Wakefield against Vandegrift and said the key to success against Madison is following the same formula.
"I think we can beat anyone if we play like we know we're capable," Baldwin said. "We have to come out fast and just keep moving."
Madison's defense will be keyed on Wilson, who finished the regular season with 1,181 yards and 16 touchdowns on 64 catches. But he's far from the Cavaliers' only weapon in the passing game. Wakefield has been a reliable target whether he's lined up at tight end or running back, and Hudson Card burst on the scene with 40 catches for 831 yards and 11 scores. Senior Alec Fuentes shook off a slow start and has averaged four catches per game over the last month while improving his blocking, much to Carter's delight.
"Alec and Garrett have improved their blocking every week," Carter said. "While that sounds like something that isn't a big deal, on some of those quick passes and edge throws, it's absolutely the difference between making three or four yards or making 10 or 11."
If Baldwin is limited or even unable to play, Card will take over at quarterback. He's yet to showcase his passing skills – he's completed 80 percent of his passes in mop-up duty – but has proven tough to tackle with the ball in his hands and has been impressive enough that he already holds an offer from SMU.
"It changes the mindset," Carter said. "We don't have another Matthew Baldwin sitting around. But Hudson is very capable. He can do some things, too."
Coaches will evaluate Baldwin's recovery – he's spent nearly all of his free time receiving treatment to rehab his ankle since Saturday – and likely decide just prior to the game if the senior will play.