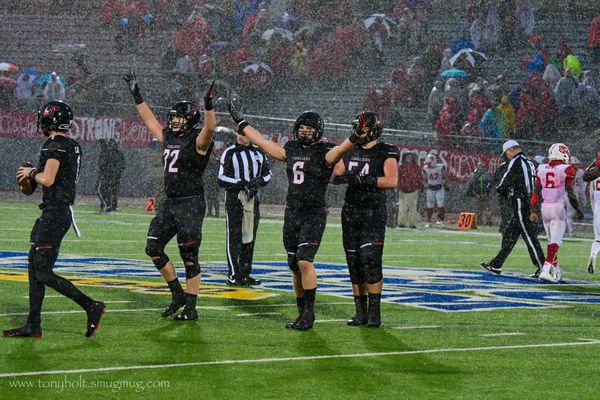 Cavaliers make prophet of Dicker in 28-14 win over Katy
The kicker got it right.
In all of the talk leading up to Saturday's 6A, Division I semifinal between Lake Travis and Katy, Cameron Dicker's analysis proved as accurate as the San Antonio meteorologists who promised a 100 percent chance of rain.
"We have to get it started right away," he said on Tuesday, Dec. 12. "We need to go take an early lead and then play like we're going to win the game."
Check and check mate.
After the teams traded punts on the rain-soaked Alamo Stadium turf, Garrett Wilson gave Lake Travis a 7-0 lead and the Cavaliers stayed one step ahead of the Tigers throughout. Lake Travis took advantage of crucial Katy mistakes – a dropped touchdown pass, a missed field goal and three turnovers – to topple the unbeaten Tigers 28-14 and exorcise any leftover demons from Katy's 34-7 thrashing of the Cavaliers in the 2015 6A, Division II state championship game.
"How can it ever be more satisfying than to get a chance to go play for a state championship?" Lake Travis coach Hank Carter said. "Probably for some of our former players who were part of that 2015 game, this may have been a little extra fist pump in there, but heck, that doesn't matter."
After Katy receiver Trey Brown dropped a sure-fire touchdown pass from Austin Marshall late in the first quarter and Seth Small missed a short field goal, the Cavaliers took control of the game and never looked back. Hudson Card found Garrett Wilson behind the defense for a 42-yard score to take the lead, and Matthew Baldwin connected with Kyle Wakefield on a 26-yard score two plays after Reid Bacon recovered a Katy fumble.
When all was said and done, the Cavaliers threw caution to the rain and stuck with their trademark passing attack. Baldwin, Card and Wilson each threw touchdown passes as the Cavaliers racked up 299 yards through the rain-soaked air without an interception.
"The rain makes it more difficult, but we're used to throwing and catching," Carter said.
The Tigers, on the other hand, seemed to struggle in the wet conditions. Marshall lost the handle on four snaps – two of which went for turnovers – and also missed on a handoff to Deondrick Glass. Though Glass rushed for 202 yards on 30 carries, the Tigers saw two drives end in punts after Marshall couldn't handle shotgun snaps in the slick conditions.
"We practice in the mornings for the first 10 weeks of the year and the balls are wet," Carter said. "I don't know if that helps on days like today, but our kids weren't phased by it."
Though Katy's vaunted defense sacked Baldwin on the game's opening possession, Lake Travis more than held its own at the line of scrimmage. Carter singled out senior center Matthew Herrera, who spent his day locked in a one-on-one battle with Katy's 6-foot-3, 275-pound nose tackle Moro Ojomo, who recently received a scholarship offer from the University of Texas.
"Probably something that is going to go unnoticed is what Matthew Herrera did today," Carter said, "lining up against a mammoth of a man. Not only did we run the ball well, we protected well and he snapped the ball great all night long. That's incredible."
Herrera's effort proved a microcosm of the afternoon on the Lake Travis sideline. Baldwin, before leaving with an injured leg in the fourth quarter, picked apart Katy's defense, completing 22 of 30 passes for 225 yards and a score. Wilson rushed for a touchdown, caught a touchdown pass and threw a touchdown pass. Card caught nine passes, including a late touchdown to seal the win, in addition to his early touchdown pass to Wilson.
"We put so much time in and the kids put so much time in, assistant coaches and everybody, and it's for days like this where we come out and execute all of our game plan," Carter said. "We did it beautifully."
Dec. 17, 2017 - Jay Plotkin