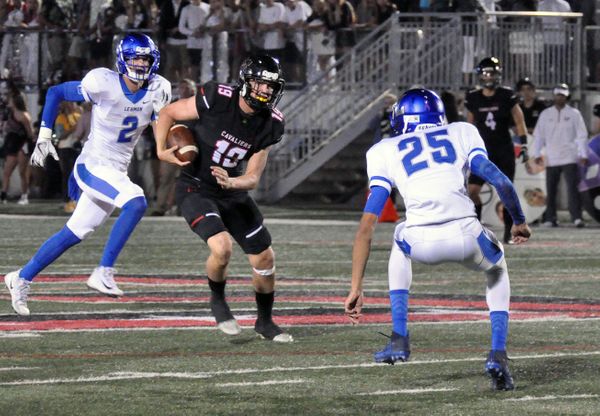 Cavaliers look to continue run against Rangers facing must-win scenario
Lake Travis hopes to continue rounding into postseason shape against a Vista Ridge playing for its playoff life Friday night.
After winning its first two district games, the Rangers have lost two in a row, including a key match-up last week with Hays, giving the Rebels a vital third District 25-6A win and the inside track to the fourth playoff spot behind Westlake (8-0, 4-0), Lake Travis (6-2, 3-1) and Vandegrift (5-3, 3-1).
"If they want to keep their playoff hopes alive, they need to beat us," Lake Travis coach Hank Carter said of the Rangers. "I expect them to come out and play inspired football and play as hard as they can to do everything they can to try and get in."
In winning their first two district games, the Rangers have relied on versatile playmaker Jamil Pittman. Playing both receiver and running back, Pittman's scored 14 touchdowns while rushing for 423 yards and catching passes from Jacob Taute for another 613 yards at 23.6 yards per catch. He's even thrown a touchdown pass for good measure.
But his availability against Lake Travis remains a question. He left the Rangers' loss to Vandegrift with an injury and missed last week's game against Hays. The Cavaliers are preparing to face Vista Ridge at its best, including Pittman.
"We're going to plan as if he's going to play," Carter said. "He's a really, really good player, as is the quarterback. He's a very mobile player with a strong arm. We're going to prepare for them to have all of their weapons ready."
Even at full strength, the Vista Ridge offense must deal with a Lake Travis defense that may be finding itself with shutouts in back-to-back weeks.
"I do feel like we've come a long way," Carter said. "We're making strides to get better. We've still got a long way to go though. This will be another test and these guys throw it better than we've seen in a while now."
In recent weeks, Carter wanted to see his team get more physical, and the Cavaliers responded with a pair of dominant wins. The coach pointed to the play of tight end Carson Cross, who moved into the lineup as Kyle Wakefield spends more time at running back.
"I'm pleased that our offense has been able to play a little nastier, and I think some of that has to do with the way Carson and Kyle have been playing," Carter said. "They give us a little more of a physical edge than we've had in the past."
While pleased with much of what he saw last week against Leander, Carter didn't like a sluggish start by the Cavalier offense, which failed to score on its first possession for the second time in three weeks after getting points on its first possession for 20 straight weeks dating back to last season.
"I don't like the way we started the game last week," he said. "We came out offensively and didn't have enough fire. I think about halfway through the second quarter that picked up and I saw a lot of things that I liked. I want to see us start hot from the beginning."
Carter said last week both Garrett Wilson and Hudson Card played at less than full strength, though Card showed little signs of being slowed, catching a game high seven passes for 146 yards. The coach expects that they'll be a little less hampered and available for Matthew Baldwin, who's passed for 2,500 yards and 28 touchdowns. Wilson became the Cavaliers' latest 1,000-yard receiver against Leander.
In reality, the Rangers may need to beat both Lake Travis this week and Westlake to qualify. Both Hays and Vandegrift own the head-to-head tiebreaker advantage over the Rangers, so Vista Ridge would need to finish ahead of either to reach the playoffs. That means four wins since the Rangers and Rebels each have three district wins already. Vandegrift and Hays play tonight.
Notes:
At halftime, Lake Travis will celebrate the tenth anniversary of the school's first state championship, won in 2007. On Thursday, Carter said about he expected upwards of 30 players from the team that beat Highland Park 36-34 to attend along with former athletic director Jack Moss and assistant coach George Oakes, both regulars at Cavalier games, and head coach Jeff Dicus, who retired after spending the last few seasons as East View's offensive coordinator. Current Lake Travis assistants Kevin Halfmann and Mike Wall were also on the 2007 staff and will take part in the ceremony.
Once the current Cavaliers make their walk from the Cavalier Athletic Center to the field for pre-game warm-ups, the 2007 team will enjoy a BBQ dinner before heading over to watch the game and get recognized at the half.
"It's a pretty neat thing," Carter said. "Those guys started what became one of the greatest dynasties in Texas high school football. That's something that needs to be commended and recognized."