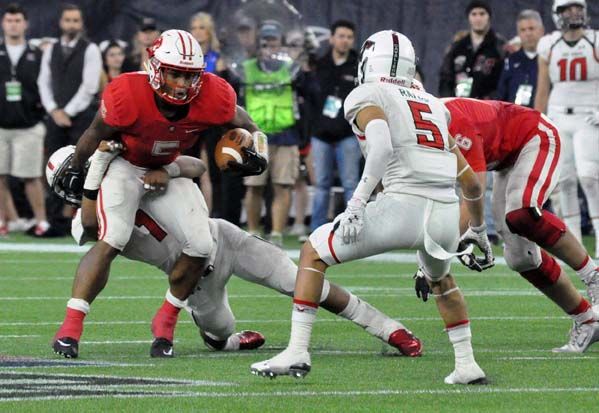 Cavaliers focusing on present, not past, as semifinal with unbeaten Katy arrives
While Saturday's 6A, Division I state semifinal matchup between Lake Travis and Katy immediately brings back memories of the 2015 Division II state championship game, the Cavaliers are focused squarely on the task at hand.
"It feels like that game was so far ago that it doesn't play into our psyche at all," said Lake Travis defensive end Reid Bacon, one of a very few Cavaliers who played in the 2015 game, a resounding 34-7 Katy win. "We're thinking about playing a good football team. That's all. That [2015 game] was so long ago that most of our players weren't even in high school."
Of the few Cavaliers who played in the 2015, only Cameron Dicker played a significant role, though even he admits he didn't play much of one as the Katy's record-setting defense held the Cavaliers to a single score.
"It was a big bummer," Dicker said. "It was the first time that we'd been to state in a while and everyone was really pumped to be there."
Katy returns a few familiar faces from the 2015 game, including defensive end Michael Matus, who won defensive MVP honors after he returned an interception for a touchdown and recovered a fumble as a sophomore. While most of the names may have changed, Katy looks a great deal like the team the Cavaliers faced in 2015.
"They are definitely a very physical team," Bacon said. "I don't think their offense has changed that much [since 2015]. They are a downhill running team with a good running back and a big, physical offensive line."
The Tigers also follow a familiar formula back into the game. Katy relies on a bruising offense and a suffocating defense. While not as stingy as the 2015 team, Katy allows only 6.0 points per game.
"Their defensive line is very good, very athletic, very talented," said offensive lineman Dawson Weiss. "We just need to go out there and do our job."
For Lake Travis to have success, they must combat Katy's size and put themselves in position to stop the Tigers from doing what they've done time and again…pound the opposition into submission with a relentless rushing attack and play fundamentally sound defensive football designed not to surrender an inch.
Cavaliers coach Hank Carter said playing a team that's a bit bigger up front won't catch the his team off-guard.
"Being at a size disadvantage isn't new for us," he said. "Judson was a lot bigger. O'Connor's offensive line was bigger than our defensive line."
Both Weiss and Bacon said the Cavaliers bring confidence into the game from surviving recent battles with teams big enough to push them around.
"We had some success playing against Judson and containing their pass rush," Weiss said. "We gave Matthew [Baldwin] time in that game and we are confident that we can do it again."
"We feel good because we've played some big offensive lines lately," Bacon said. "O'Connor had a huge offensive line and we're going against another one this week. That really prepared us for this week. We have to play fast and hard and we have to be the most physical team on the field."
Once the Cavaliers deal with Katy's size, they must do something they struggled with the last time the teams met: slow the vaunted Katy rushing attack. Junior Deondrick Glass has rushed for 1,469 yards and 25 touchdowns, many coming on the Tigers' bread-and-butter play.
"One of the oldest plays in the game is the toss sweep and they do it really well," Carter said, thinking back to his team's struggles to stop Katy's Kyle Porter in the 2015 meeting. "We are going to need to play it better this time."
Bacon said the key will be all 11 Cavaliers defensive players executing their assignment, time and again.
"We just need to focus on plugging the gaps and not giving him a whole bunch of room to run," he said. "If you take away some of the opportunities, then we can force him to go somewhere we want him to go."
Then there's the matter of dealing with Katy's defense. The Tigers have held nine of 12 opponents to less than 10 points and of the 72 total points they've allowed, 24 came in the first week of the season after the Tigers cancelled their first two games in the aftermath of Hurricane Harvey.
"They are going to play defense to make it difficult to move the ball," Carter said. "We need to do a better job protecting the quarterback and we when we have shots, we need to take them."
Establishing a running game early could be key in keeping the Tigers from selling out to slow Baldwin and Garrett Wilson in Lake Travis' passing attack. In the win over O'Connor, the Cavaliers established a physical running attack that Carter hopes will continue Saturday. Senior Kyle Wakefield, who shifted to running back from tight end in the middle of the season, rushed for 102 yards against O'Connor.
"We will continue to call on him, and all of the guys," Carter said. "We need him and everyone else to keep making plays."
Wakefield knows yardage will be tough to come by against Katy's defensive front, but he's confident that his team can find success once they get to the second level.
"We need to get to the second level," he said. "If we can do that, I like our chances."