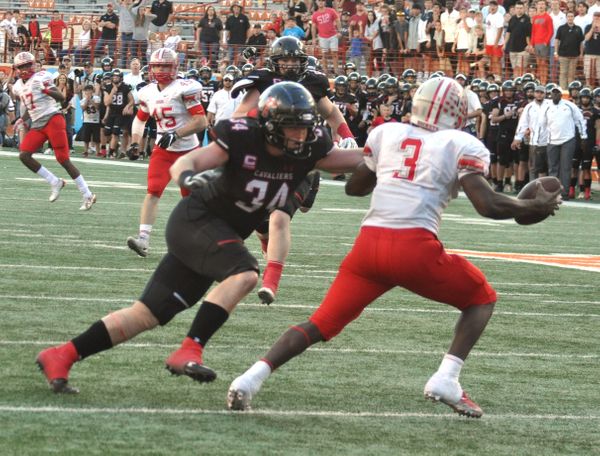 By winning flip, Los Fresnos scores victory of sorts with home game
No matter what happens Saturday afternoon, Los Fresnos (9-3) already scored one win over Lake Travis (10-2). Falcons coach Patrick Brown got the better of Lake Travis coach Hank Carter in a coin flip.
The result has the Cavaliers making the journey from central Texas all the way to Los Fresnos for the third round game.
"We haven't ever played a true road playoff game and that wasn't the plan," Carter said Tuesday. "We asked for a neutral site game this year, they wanted to stick with a home game. So we flipped and I lost the flip."
As a result, the Cavaliers reverse the journey the Falcons made last year.
"Last year we were able to work out some things with them because it was Thanksgiving," Carter said. "They wanted their kids to come and see what some of the programs that they see on TV would look like. I thought it was an awesome experience for our kids and theirs. We wanted to be very courteous to our guests. Our booster club fed them and they are wanting to reciprocate that this year. They want to welcome us and be good hosts."
The Cavaliers proved good hosts leading up to the game, not so much during. Lake Travis cruised to a 64-7 win en route to the state championship. Now, fresh off a confidence-building 47-39 win over Converse Judson, the Cavaliers to continue their winning ways against a Los Fresnos team enjoying another successful season.
"They are a well-coached team and their kids play hard," Carter said. "They have a good plan. I don't expect them to stop their winning ways. Hopefully it doesn't continue Saturday, but I believe that they'll be a good program for a long time."
The Falcons enter the game on a five-game winning streak sparked by an offense that relies on screens and draws to take advantage of often-aggressive defenses. It's a formula the Cavaliers have seen before.
"They do a really nice job of getting the ball out of the quarterback's hands in the passing game," Carter said. "Their screen and draw game is as good as anybody that we've played, which reminds me of Jesuit and we really struggled with them."
Quarterback Charles Chapa leads the Falcons' attack, passing for 1,873 yards and 15 touchdowns while rushing for a team-high 841 yards and another 15 touchdowns. Alberto Baneulos has rushed for 758 yards. Nico Valencia has been Chapa's primary target, catching 63 passes for 870 yards and 10 scores.
"They're not very big, but they are very quick," Carter said. "They are going to present some challenges for us because of the things that they can do. Defensively, they are a scrappy bunch that reminds me a lot of the Hays defense. They are team that's physical, tough and plays with an edge."
Defensively, Cristian Pena anchors the Falcons' defense with 128 tackles and four sacks. Mathew Ortiz has found ways to pressure opposing quarterbacks with 5.5 sacks.
Coupled with last year's win and last week's effort against Judson, Carter said the Cavaliers must be ready to play from the start and not get caught reliving last week's win.
"We have to guard against having an emotional hangover after that big win on Saturday and we have to handle making that trip down to the valley," Carter said.
The players are looking forward to the trip.
"I'm looking forward to going to the beach, hanging out with the boys," said receiver Alec Fuentes, who's also thinking about the true task at hand. "I think we'll bring the confidence we gained in the Judson game into the Los Fresnos game. They made it to round 3, so they are doing something right."
Notes:
While Carter and the current Lake Travis staff have not played a true road game in the playoffs, the school has. Way back in 2000 – the first year the Cavaliers made the playoffs, Lake Travis played games at Pflugerville Connally (a 21-14 win) and New Braunfels (a 28-25 loss). In 2010, Lake Travis played McCallum at House Park, one of several stadiums the AISD schools call home.
Dec. 1, 2017 - Jay Plotkin