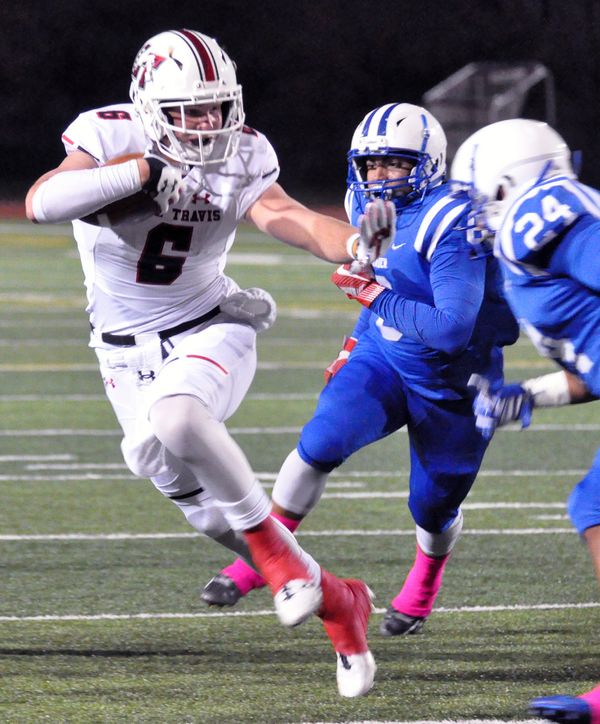 After slow start, Cavaliers roll past Leander 44-0
Lake Travis (6-2, 3-1) posted its second straight shutout, holding Leander (0-8, 0-4) to just 66 yards of offense in a 44-0 win Friday night at Bible Stadium.
"Our defense has been getting better," Lake Travis coach Hank Carter said. "We've been having good practices and I'm excited about that. We're still not where we need to be, but we forced some turnovers tonight which was something we wanted to do."
After allowing 35 points per game in their first five contests, Lake Travis has allowed just 21 total points in its last three games. Friday, the Cavaliers limited Leander to just two first downs on the night – one in each half – and allowed just six passing yards on two of 16 attempts. Sebastian Monroe recovered an early Leander fumble to set up Lake Travis' first touchdown and Nathan Parodi added a third-quarter interception as Lake Travis held its second straight opponent to less than 100 yards of offense. Lehman gained just 67 yards of offense last week.
Lake Travis' offense suffered no such struggles while putting together its most balanced effort of the season, rushing for a season-high 203 yards and five touchdowns. Kyle Wakefield led the attack with 45 yards on eight carries and three touchdowns as 10 different Cavaliers ran the ball.
"We were really trying to pound the rock because we haven't done that very well over the last couple of weeks," Wakefield said. "The offensive line created some big holes tonight and we were able to run through them."
All three of Wakefield's touchdowns came in the second quarter as Lake Travis broke recovered from a slow start, Carter said.
"I don't know what it was tonight but we were a little sluggish coming out," Carter said. "We got going in the second quarter and started to look like Lake Travis, which was good."
Alec Fuentes scored on a 16-yard run and Matthew Baldwin added a 31-yard run in the second quarter.
"We ran the ball really well tonight," Carter said. "Our offensive line matched things up very well and I thought Matthew Baldwin ran hard, as did Kyle Wakefield when he was back there."
Baldwin capped the scoring when he hit Hudson Card for a 50-yard score on the first play of the third quarter. Card finished with a game-high seven catches for 146 yards.