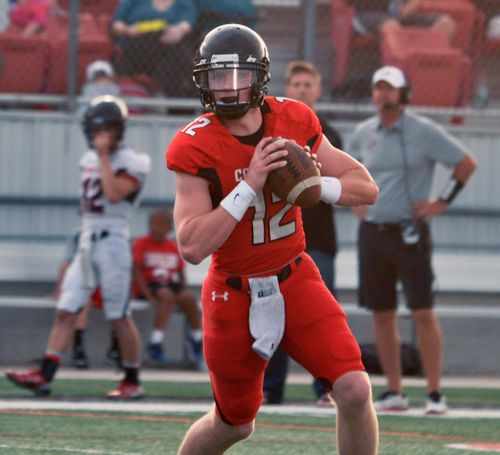 After first 6A title, Cavaliers turn to crop of new faces to reload
Aug. 6 originally published at laketravisview.com
Hank Carter smiles as he thinks about welcoming Lake Travis High School's football players back for the 2017 season. He can't quite refer to practice by its traditional, seasonal moniker, but he's ready to see his team get back to work.
"Our fall camp – I don't know that you can call it that anymore – will be about learning how to play football, learning how to play your position," Carter said, thinking about the 100-degree temperatures sure to welcome the Cavaliers on Aug. 14.
Carter's staff will welcome back a team brimming with confidence, though one that won't look too much like the 2016 6A, Division I state title winning, senior-dominated group. The Cavaliers' top two priorities will be putting together a lineup that may include some familiar faces in new roles and shortening that learning curve.
"It's going to look different," Carter said. "We've got some opportunities for young guys to come and make a difference in our program. We have to get out there and learn."
While only four starters from last year's team return, those looking to step into larger roles have already made an impression by winning the state 7on7 championship last month.
"I think it was a big shot in the arm for confidence for this group," Carter said. "And it's something that nobody's done around here in a while. It's not real football, but still, that's neat to see."
Summer success aside, Carter knows full well that things change when the pads come on. As accurate as Colorado State-bound quarterback Matthew Baldwin has been and as uncoverable as junior receiver Garrett Wilson proved during 7on7, the Cavaliers have some questions to answer before they make the 90-mile drive to Judson to open the season Sept. 1.
The questions, however, don't dampen expectations.
"We told them from day one of offseason that this team can be as good as they want to be," Carter said. "We have plenty of talented players who can accomplish every goal we want to accomplish. We're going to have to shuffle some guys around, learn some new spots. But we can do it. Seeing the way that they went out and competed at 7on7, maybe they are like, 'yeah, I can see that.'"
Offensive line
For starters: C Matthew Herrera. Next up: Steven Posey, Dawson Weiss, Jake Adams, Andrew Salem, William Germond, Chad Wolf.
Carter says: "We have some really good linemen in our sophomore and junior classes. They have to learn to play as a unit, but I think the future is really bright with that bunch."
Running Back
In the mix: Bryce Roeder, Nick Villareal, Travis Atchley, Kyle Wakefield.
Carter says: "There isn't another Maleek [Barkley]. We have several guys who have been working as running back-by-committee."
Defensive Line/Linebacker
For starters: DT Kade Langston, DE/DT Reid Bacon. Next up: DE Sebastian Monroe, DE/LB Cade Bruck, DT Kaleb Wenson, LB Ryan Wilkins, LB Maui Trevino.
Carter says: "We have two starters back on the defensive line, so I would consider that a place of good experience for us. But, we are thinner than I wish we were."
Notable: Wenson moves in from Georgia and gives the Cavaliers a much-needed presence on the line. Junior LB Matthew Peterman, a part-time starter in 2016, will miss the season after injuring his knee in the spring game.
Key dates:
Aug. 14: First day of practice
Aug. 16: First day of school
Aug. 25: Scrimmage vs Cedar Ridge
Sept. 1: Season opener at Converse Judson, 8:30 p.m.