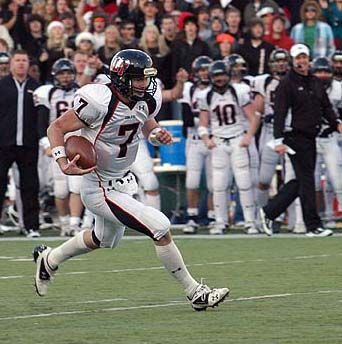 7 days until Westlake: NFL QBs share jersey #7
Westlake's Nick Foles and Lake Travis' Garrett Gilbert are the only two quarterbacks to play in this series who reached football's highest level. The NFL isn't the only common bond between the players: both wore #7 while leading their high school teams.
Foles finished his Westlake career as the Chaps' all-time leading passer, surpassing marks set by Drew Brees, the school's other NFL quarterback. In his lone game against Lake Travis, Foles completed 12 of 16 passes for 238 yards and a score.
Foles went on to a prolific college career at Arizona after transferring from Michigan State and spent three seasons as the Philadelphia Eagles' starting quarterback. He started 29 games between 2013-2015 and led the Eagles to the NFC East title in 2013, when he earned a spot in the Pro Bowl after passing for 2,891 yards and 27 touchdowns against just two interceptions. That season ended with a playoff loss at New Orleans in a match-up with Brees.
Gilbert holds the distinction of being the only Lake Travis quarterback to lose to Westlake, dropping games in 2006 and 2007. Gilbert rushed for three touchdowns in leading the Cavaliers to a 38-17 win in 2008.
After winning USA Today Player of the Year honors and graduating as the all-time leading passer in Texas High School Football History, Gilbert transferred from Texas after suffering an injury two games into his junior season. He finished his college career at SMU, where he passed for 6,460 yards and 32 touchdowns. Counting his time at Texas, Gilbert passed for 9,761 yards in college.
Drafted in the sixth round by the St. Louis Rams in the 2014 NFL draft, Gilbert has yet to play in a regular season game. He's spent time on practice squad rosters in St. Louis, New England, Oakland, Detroit and Carolina. He played in New England during the Patriots Super Bowl winning playoff run in 2014-15.
Since his graduation, only one player has worn the number 7 jersey: Griffin Gilbert switched from 23 for his senior season in 2011. The number has not been issued since.
Gilbert, Foles share NFL, high school jersey number