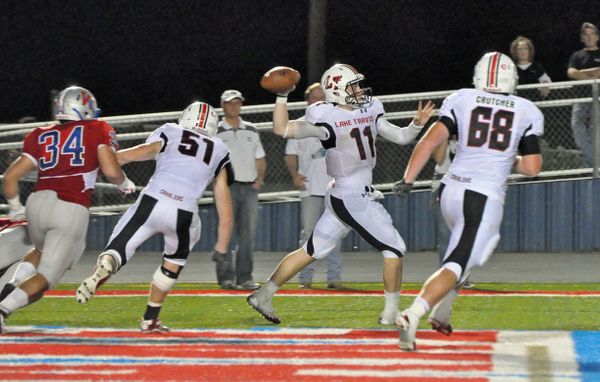 5 days until Westlake: 5 Lake Travis trips to Chaparral Stadium
This season's meeting at Chaparral Stadium will be the fifth meeting between the teams at Westlake's home field. The teams have met five times at Lake Travis and three times at neutral sites, including twice at Darrell K Royal-Texas Memorial Stadium.
While this is the fifth time the Cavs and Chaps have squared off at Westlake, it is Lake Travis' sixth game at the stadium. Lake Travis also met Hays at Westlake in the 2006 Bi-District playoffs.
Lake Travis brings several streaks into Fridays game. Most notably, the Cavaliers have won 11 straight games against Westlake. Lake Travis has also won 41 consecutive district games dating back to the end of the 2010 season. And Lake Travis has won its last three games on Westlake's turf after dropping its first two games at the stadium.
Hays handled Lake Travis 35-14 in that 2006 playoff game, and posted a 28-21 win in 2007. But since then, the Cavaliers are unbeaten at Westlake, including the heart-stopping, or heart-breaking, 14-11 decision in 2012. Leading up to Friday's fifth meeting between the rivals at Westlake, here's a quick look back at the previous four meetings.
2007: Westlake 28, Lake Travis 21. Westlake got a solid performance from unheralded quarterback Walker Kobelan and handed Lake Travis the only defeat in its first state championship season. Kobelan threw a touchdown pass and ran for another as the Chaps held off a late Lake Travis rally. The Chaps intercepted Garrett Gilbert four times, including twice late.
2008: Lake Travis 38, Westlake 17. Gilbert scored his revenge, and first win over Westlake in three tries, with three touchdown runs. Chris Aydam caught a touchdown pass and added a run, and the Cavaliers pressured Tanner Price into three turnovers in the win.
2012: Lake Travis 14, Westlake 11. Westlake played keep-away from Lake Travis' offense, but the Cavaliers thwarted a late Westlake fourth-down try, setting the stage for a stunning comeback. Backed up in his end zone and flushed from the pocket by Westlake's pass rush, Baker Mayfield found Grant Foster behind the Chaps' defense. The catch-and-run went for a 96-yard touchdown and gave Lake Travis a 14-11 win.
2015: Lake Travis 35, Westlake 14. Behind three touchdown passes from Charlie Brewer and a defensive effort that allowed just seven points over the first three and a half quarters, Lake Travis pulled away for a 35-14 win. Brewer threw touchdown passes to Cade Brewer, Santiago Villegas and Cade Green, and Lake Travis forced a pair of first-quarter turnovers while holding the Chaps scoreless through halftime.