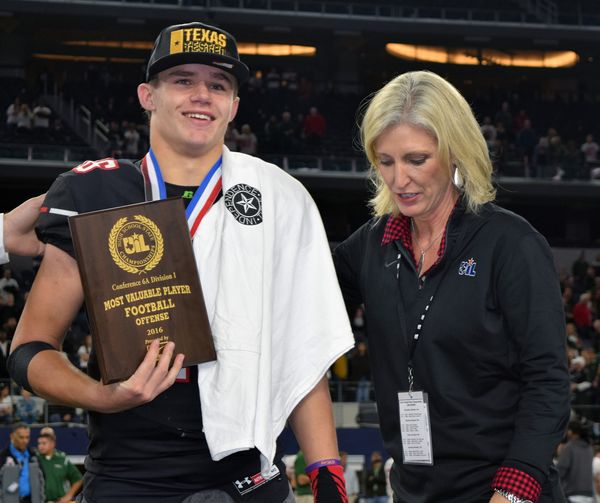 3 Days Until Westlake: 3 AP Players of the Year
As two of the top programs in Texas, it's no surprise that the Lake Travis-Westlake rivalry should produce some of the top players. Following three of the previous meetings, a player from the game has gone on to win Associated Press State Player of the Year honors.
Garrett Gilbert, Lake Travis, 2008. Quickly: Also named Gatorade National Player of the Year leading Lake Travis to state title with 4,854 yards, 56 touchdowns passing; 767 yards, 23 touchdowns rushing.
Gilbert's senior season, like his junior campaign, saw him set the state's single-season passing yardage mark at 4,854. He also became the state's career-passing yardage leader with 12,534. Both records have since fallen. Twice he threw six touchdown passes in a game and he added five rushing touchdowns against Alice in the playoffs. His record-setting campaign included seven games with at least 300 yards passing, including 414 against storied Evangel Christian. He also had a pair of 100-yard rushing games.
Sam Ehlinger, Westlake, 2015: Quickly: Led Westlake to state championship game with 3,833 yards, 50 touchdowns passing, 1,360 yards, 20 touchdowns rushing.
After a regular season that saw him throw 34 touchdown passes without an interception, Ehlinger led the Chaps past top-ranked Allen in the semifinals by passing for 257 yards and three scores while rushing for another 127 yards, the second of back-to-back 200-yard passing, 100-yard rushing efforts. He threw for six touchdowns twice while posting three 300-yard passing games. He added four 100-yard rushing efforts, including a 225-yard, 5 touchdown performance against Austin High.
Charlie Brewer, Lake Travis, 2016: Quickly: Led Lake Travis to state championship, set national record for completion percentage (77.2). Passed for 3,923 yards, 56 touchdowns with just two interceptions, rushed for 746 yards, 9 TDs.
Like Ehlinger the year before, Brewer cruised through the regular season without an interception. Despite sitting out at least one full quarter in half of the Cavaliers' 16 games, Brewer passed for 3,923 yards and delivered four 300-yard games. On seven different occasions, Brewer finished games with more touchdown passes than incompletions, including the state semifinals, when he threw five touchdown passes while completing 28 of 32 passes against Atascocita. He capped his season by earning state championship game MVP honors, throwing for a season-high 365 yards against The Woodlands.