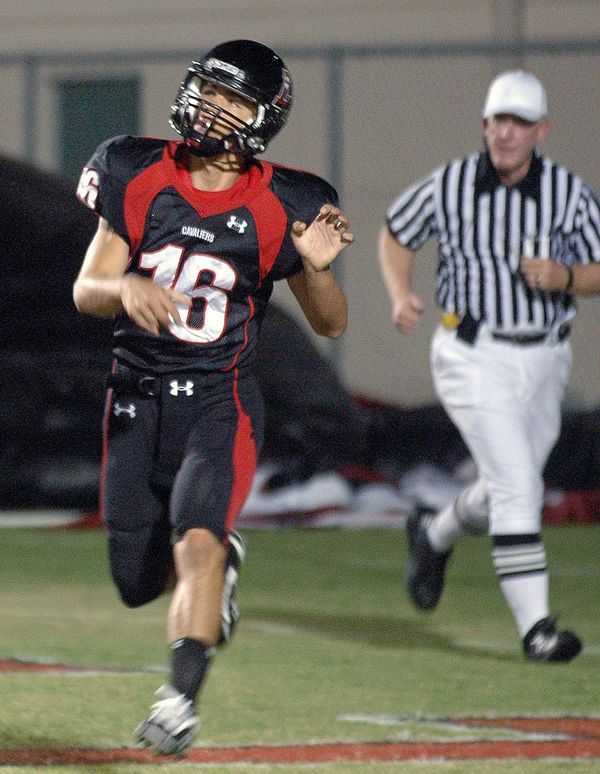 What to watch for
Former Lake Travis, Texas Tech and Virginia Tech quarterback Michael Brewer has seen his share of rivalry games. He quarterbacked Lake Travis to a pair of wins over Westlake and Virginia Tech to a pair of wins over rival Virginia. Here are three things he'll be watching tonight:
Westlake's defense vs. Lake Travis' offense
With his younger brother quarterbacking the Cavaliers, Brewer has a vested interest in this matchup. "Westlake's got a very good defense, probably the best they've had in a long time," he said. "Lake Travis has a lot of weapons on offense. They've got a great receiving corps and Charlie's throwing the ball really well right now. That's the match-up I'm interested to see." It's not quite the proverbial irresistible force meeting the immovable object, but it's close. "If Lake Travis' offense plays at a high level and Westlake's defense plays at a high level, how does that play out?"
Turnovers
"Turnovers in a game like this is the make or break," he said. "Whoever wins the turnover battle and whoever wins the special teams battle is who I think wins this game." Last year, Lake Travis forced two early fumbles and took a 13-0 lead into the locker room en route to the 35-14 win. Westlake's defense has always had a knack for forcing turnovers – they got four last week against Hays. The Chaps have forced 14 turnovers already in 2016.
Special teams
Both Westlake and Lake Travis utilize key offensive players in the return game. Leading receiver Andrew Boykin handles both kickoff and punt returns for Westlake. Lake Travis relies on Cade Green to return punts, and he joins speedsters Maleek Barkley and Garrett Wilson on the kickoff return team. Barkley returned a pair of kickoffs for touchdowns last season. The coverage units will be key as both teams will want to limit returns to force the opposing offense to drive a long way against opportunistic defenses. Lake Travis may have the upper hand in the kicking department. Junior Cameron Dicker earned all-state honors and made a high-pressure kick to force overtime against Cibolo Steele earlier this season, though he's made just three of six field goals.
Other keys to the game for Lake Travis:
Anybody but Boykin
You'd be hard pressed to find anyone on the Westlake sideline happier to see Sam Ehlinger return than Boykin, who celebrated the reunion by catching four touchdown passes it the opening quarter. In the two games Ehlinger's played, Boykin's caught 13 passes for 240 yards and five touchdowns. In four games without Ehlinger, he managed just 15 grabs, including two against Henderson (Nev.) Liberty in the Chaps lone loss. "We'll know where he is at all times," Lake Travis coach Hank Carter said. If Lake Travis can limit Boykin's productivity, can the Chaps' other receivers – Noah Skrudland, Jake Ramos and injured Connor Howard – do enough to keep the Westlake passing game moving?
Making history work for you
To a degree, Westlake quarterback Sam Ehlinger's correct: "the last 8 years don't matter," he said after Westlake's win over Hays. Until they do. Ehlinger and his teammates may be supremely confident that this is their year, but their fans will need a little convincing. The longer Westlake stays close – and in the last two years, Lake Travis has by-and-large controlled the game – the more the Westlake crowd will remain engaged. If Lake Travis gets off to a quick start, the weight of the eight-year winning streak will mount on the Chaps' fans, as happened last year. "I really felt like we were the home team last year," said Cade Brewer, whose early touchdown set the Lake Travis fans into a frenzy that didn't calm until after the 35-14 win. Carter agreed. "Last year for us playing at their place, once we got ahead I felt like I heard our crowd a lot and it kind of took their crowd out of it," he said.
Michael Brewer ranks second on all of Lake Travis' passing lists, trailing only his predecessor Garrett Gilbert. Between Lake Travis and Virginia Tech, Brewer's side has dominated its rival in recent years. Brewer played in the first three of Lake Travis' eight consecutive wins over Westlake and the last two of Virginia Tech's current 12-game win streak against its rival, the University