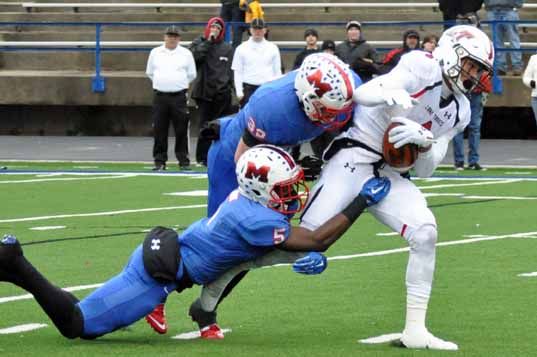 We meet again
Friday's 6A, Division I, Region 4 championship game gives Central Texas football fans a second look at one of the area's marquee rivalries when Lake Travis and Westlake meet at the Kelly Reeves Athletic Complex.
For Lake Travis, the rematch marks the sixth time in its playoff-going history, which began in 2000. The Cavaliers have yet to lose a second game against a team in the same season. The history:
2015: Waco Midway
Reg. Season: Lake Travis 48, Midway 24
Regional Semifinal: Lake Travis 55, Midway 14
Notes: The regular season meeting came in the season-opener. The third-round playoff meeting came on a frigid afternoon in Temple. Maleek Barkley's big day sparked the Cavaliers to the win.
2013: Westwood
Reg. Season: Lake Travis 53, Westwood 16
Bi-District Playoff: Lake Travis 52, Westwood 7
Notes: The Cavaliers struggled early before getting untracked behind Shaun Nixon in the regular season meeting, then battered one-time Lake Travis quarterback Bear Fenimore relentlessly in a post-season rout. Michael Islava led a sack attack that dropped Fenimore a dozen times.
Note: Lake Travis and A&M Consolidated would have met twice, but the regular season meeting set for week 4 got rained out. Lake Travis topped A&M Consolidated 21-7 in the Regional Final.
2011: Cedar Park
Reg. Season: Lake Travis 24, Cedar Park 21
Regional Final: Lake Travis 14, Cedar Park 9
Notes: Lake Travis reclaimed the district 25-4A title in the regular season finale, then dashed the Timberwolves' playoff hopes on Brock Kenyon's late interception at DKR.
2010: Cedar Park
Reg. Season: Cedar Park 35, Lake Travis 21
Regional Final: Lake Travis 21, Cedar Park 20
Notes: Cedar Park wrapped up an undefeated regular season by snapping Lake Travis' 48-game district winning streak, forcing four turnovers in the 35-21 win. The Cavaliers got the last laugh, though, stopping the Timberwolves 21-20 on their way to a fourth-straight state title. Dylan Bittles' sack of Cedar Park quarterback Ethan Fry on fourth down in the final minute sealed the win for the Cavaliers.
2010: Kerrville Tivy
Reg. Season: Lake Travis 38, Tivy 37
Area Playoff: Lake Travis 48, Tivy 42
Notes: The Cavaliers rallied furiously to beat Johnny Manziell's team in the regular season, then won a shoot-out in the playoffs. Colin Lagasse quarterbacked the Cavaliers in the regular season win and also sealed the game with a fourth-quarter interception of Manziell. Cameron Wrinkle returned a kickoff for a touchdown and Michael Brewer's big night helped the Cavaliers advance in the playoffs. Tivy finished the season 10-2.
2008: Killeen
Reg. Season: Lake Travis 50, Killeen 9
Regional Final: Lake Travis 71, Killeen 9
Notes: District foe Killeen offered little resistance in the regular season and even less in a playoff game held at DKR.
Rematches
Lake Travis has faced a regular season opponent again in the playoffs six times.