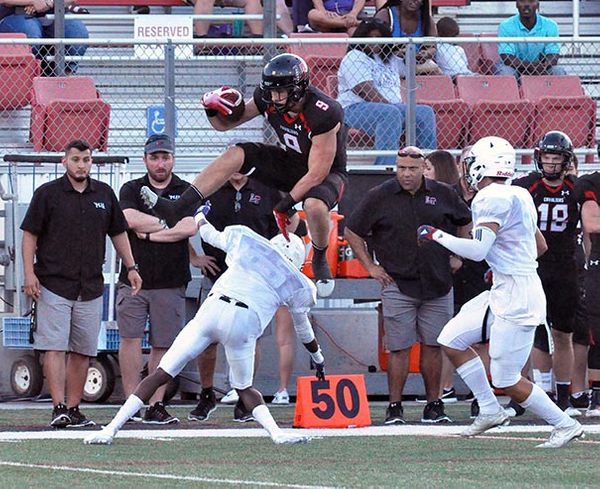 Scrimmage leaves Lake Travis frustrated, eager to start season
Lake Travis left the field following Friday's scrimmage with Cedar Ridge with an unfamiliar sense of frustration.
In the one live quarter the teams played, Cedar Ridge used a pair of big pass plays to score twice against the Cavaliers. Though Lake Travis responded both times, the second a 43-yard grab by Garrett Wilson on the final play to avoid "defeat," coaches and players know there's still plenty of work to do prior to the season-opener against Converse Judson.
"Mostly, it was ugly," Cavaliers' coach Hank Carter said afterwards, "but that first scrimmage usually is. If we had won 6-0, lost 0-6 or tied like we did, we're going to work tomorrow to keep polishing it up."
The Cavaliers matched Cedar Ridge in the live quarter, responding to a pair of Raider big plays with touchdown passes from Charlie Brewer to Cade Brewer and Wilson, but Carter saw plenty of things to improve upon.
"Offensively, we were sloppy," he said. "We have to be better than that. I was excited to see us go down and tie it up, make a big play."
When pressed, the Lake Travis offense responded. All told, Charlie Brewer completed 11 of 15 passes for 202 yards on the night, including four of five in the live scrimmage. He also contributed with his legs, scrambling twice for 43 yards to set up scores. Cade Brewer caught three passes for 96 yards, including an Olympic-caliber hurdle of a would-be tackler while running after a catch.
"I thought the offense did pretty well but there's still some stuff we need to work on," Cade Brewer said.
Offensively, the Cavaliers gained 256 yards on 50 plays before adding another 140 on two scoring drives in the live quarter.
Defensively, the Cavaliers kept the Raiders in check during four series that consisted of 50 plays prior to the live scrimmage. After holding the Raiders to 118 yards over 50 plays, the Cavaliers allowed 140 in seven. Kyle Wakefield and T.J. Simien got pressure on Garrett Sharp prior to the live scrimmage, but Sharp took advantage of Lake Travis' young secondary in the live quarter.
"Defensively, I'm disappointed in the two big plays we gave up," Carter said. "On one play, the safety lost sight of the receiver when he went inside. On the other, we just fell down. You can't fall down. This is big boy football."
The Cavaliers have a week to shore things up before Converse Judson visits on Friday. While he doesn't excuse the mistake he saw against Cedar Ridge, Carter expects they'll be corrected with more practice.
"We've got to get used to playing football again," Carter said. "Even though it's a lot of the same guys who were playing [in the state championship game], we aren't playing as good as we were then. Nobody is. We'll be there."
Brewer, the senior tight end bound for SMU, said prepping for an actual opponent will help the team's focus.
"It's a relief [to be done with camp] not having to hit your own teammates all the time," he said. "I'm excited to hit someone else. It is good to get the season started."
Lake Travis vs Cedar Ridge
Lake Travis and Cedar Ridge scrimmage to close the pre-season.