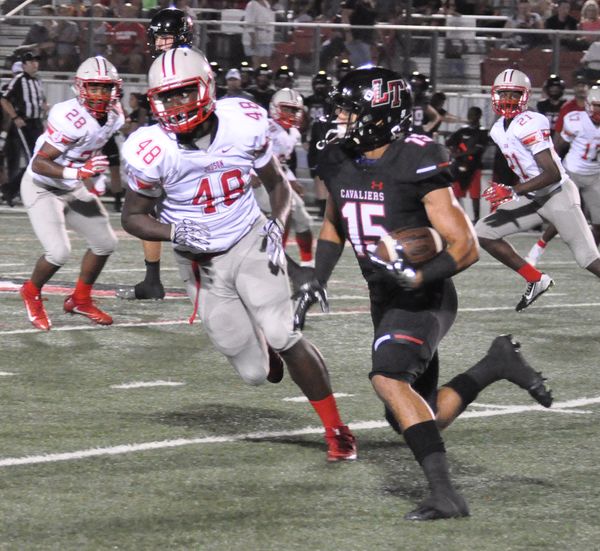 Rockets rally to stun mistake-prone Lake Travis
Lake Travis coach Hank Carter knew months ago that any of the Cavaliers' non-district opponents could beat them if his team didn't play well.
Converse Judson proved him right.
The Rockets rallied from a 28-13 fourth-quarter deficit to upset the second-ranked Cavaliers 35-28 Friday night.
The Cavaliers committed 11 penalties, made a mess of their usually reliable kicking game, and couldn't contain Judson quarterback Julon Williams, who rushed for 139 yards with two scores and passed for 192 more, including the winning touchdown with 1:35 left.
"We made penalties all night long," Lake Travis coach Hank Carter said afterward. "Our special teams were poor tonight. We didn't handle the tempo well enough and didn't play with discipline tackling the quarterback."
Early on, despite dominating while taking advantage of the Cavaliers' miscues, the Rockets couldn't pull away. Lake Travis took a 7-0 lead when Mateo Lopez forced Williams to fumble and Kyle Wakefield returned it 53 yards for a score early in the first quarter. But that was the defense's only early bright spot.
While Lake Travis' offense struggled – four straight three-and-out possessions to start the game – Williams took the Rockets on drive after drive. Judson gained 273 yards and forced the Cavaliers to defend 48 plays. With all of that, though, the Rockets led just 13-7.
The Cavaliers finally hit their offensive stride late in the half, picking up their initial first down with 1:38 left in the half when Charlie Brewer hit Maleek Barkley for 28 yards, but the promising drive ended when Cameron Dicker missed a 34-yard field goal, one of two misses on the night from last year's all-state kicker.
With a little momentum – Lake Travis gained 68 yards on its final drive of the half after gaining just 26 yards prior to that – the Cavaliers struck quickly in the third quarter, carving out a 28-13 lead on Cade Green's touchdown catch and scoring runs from Brewer and Barkley.
"Charlie had time to throw and we stopped making penalites," Carter said of his team's surge. But it didn't last long.
Judson clawed back into the game early in the fourth quarter. The Cavaliers made uncharacteristic mistakes, and Williams made plays for the Rockets. Williams converted a fourth down early in the fourth quarter to set up Mi'kel Jackson's 14-yard touchdown run and then brought Judson within 28-26 on a 16-yard touchdown run of his own. The two-point conversion failed, and Lake Travis clung to the slim lead with 4:21 left.
With Lake Travis expecting an onside kick, Judson kicked deep and pinned the Cavaliers at their own 8-yard line. After a penalty, the Rockets tied the game when Maleek Barkley slipped in the end zone for a safety with 4:03 left.
"We went with our hands team and they pooched it over us, and then we got a penalty and a safety," Carter said.
Williams went to work again, leading the Rockets 60 yards, finding Kenyon Morgan to convert one third down before scrambling away from pressure and hitting Sincere McCormick for the winning score from 36 yards out.
While the Cavaliers were flagged for 99 yards of penalties, Carter said the plays the flags negated – or extended when Judson had the ball – proved much costlier.
"We extended two series for them and for us, it cost us some really, really big plays," he said.
Late in the game, the Cavaliers saw a 38-yard completion to Garrett Wilson wiped away, and two personal fouls on the same play came after the Cavaliers had reached the Judson 16-yard line. One penalty came on the play immediately preceding the tying safety, and the last came with 15 seconds left as the Cavaliers tried frantically to tie the game.
The loss marks the second time in three seasons that Cavaliers have lost their opener at home. Midway beat Lake Travis 38-30 in 2014. Lake Travis must regroup quickly before travelling to Cibolo Steele Friday night.
Lake Travis vs. Judson
Images from Judson's 35-28 win over Lake Travis to open the 2016 season