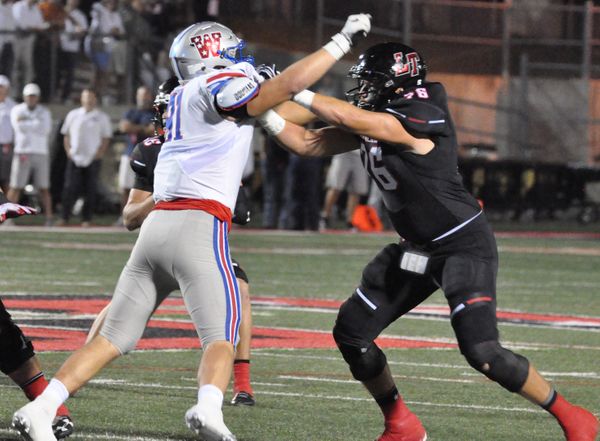 In Battle of the Lakes rematch, Cavaliers again prep to take Westlake's best shot*
Injuries continue to plague Chap QB Ehlinger, who ruled himself out of game after breaking wrist in third round win
Lake Travis' quest for a first 6A state championship continues Friday against a familiar face: District 25-6A rival Westlake. The Battle of the Lakes redux adds an interesting twist to a highly-anticipated state quarterfinal game.
"Playing them in the playoffs for the first time, with such high stakes, makes me want to prepare even more," said Cavalier linebacker Mateo Lopez.
"It's a revenge game for them," Lake Travis offensive tackle Brenden Jaimes said Wednesday. "Obviously, they're going to play a little harder. It should be a good game."
Two months ago, Lake Travis handed Westlake its worst loss ever, 49-7, the Chaps' ninth straight loss in the 11-year-old rivalry. While fans will look back at that first meeting for bragging rights or motivation, from the Lake Travis players' perspective, that game might as well have been two decades ago.
"I don't think about it at all," Lake Travis quarterback Charlie Brewer said. "It doesn't matter. If they come out and beat us, that first one doesn't mean anything. We have to go out there and get after it, hopefully come out with a win."
While he acknowledges the significance of the rematch, Brewer said the Cavaliers must stay in the moment.
"The history of Lake Travis and Westlake makes this more interesting," he said, "but we have to focus on this game and not get caught up in all of the stuff that surrounds it."
Since the Oct. 7 defeat, Westlake's won six in a row, allowing just 45 points in the process. Lake Travis coach Hank Carter said the Chaps look like themselves again.
"The film we saw from the last couple of weeks, it looks like they are healthy and they are obviously playing very well," he said.
Chaps appear back
Westlake hopes to bring a much different team to the Kelly Reeves Athletic Complex than it took to Cavalier Stadium. A handful – anywhere between five and nine starters, depending on who you ask – missed the first meeting for one reason or another, including quarterback Sam Ehlinger.
Lake Travis didn't let who played or didn't play affect their preparation for the first meeting, nor do they let it impact them this time around.
"They will be able to do some more things, but it doesn't change what we're doing to prepare for them," safety Austin Hiller said.
"When we played them in the regular season, we were preparing for Sam and [running back Nakia] Watson to be playing as well," Lopez said. "It just so happened that neither of them were playing. We're still preparing for both of them, knowing that they'll stay in the game as long as they can. We had prepared for them before and I think we'll be prepared for them again."
Ehlinger's season ends with fracture
Ehlinger played against Lake Travis just five weeks after knee surgery but left early in the first quarter after breaking his right thumb while being sacked. Ehlinger returned to play in the Chaps' two most recent playoff wins, but news broke Thursday that he broke his right wrist against Laredo United and would miss Friday's rematch. He practiced through persistent pain during the week before discovering the break via x-ray on Wednesday evening, reported Rick Cantu for the Austin American-Statesman.
Without Ehlinger and Watson (1,540 yards, 22 TDs), the Chaps struggled in October against a Lake Travis defense geared up to stop the Chaps' primary weapons. Hiller, who appeared dismayed that the Cavaliers didn't get their rival's best shot the first time around, was looking forward to playing Westlake at its best.
"I'm looking forward to playing them with their best guys," Hiller said Wednesday, before news of Ehlinger's latest injury broke. "In a rivalry game like this, that's what we want. We want the best competition in the state and we're going to get it this week."
Cavaliers gear up for increased pressure from Westlake defense
Watson's return gives the Chaps a bruising running threat, but the game may hinge on how the Chaparrals' defense attacks the ultra-accurate Brewer. The Lake Travis quarterback completes 77 percent of his passes this season and he's thrown 44 touchdown passes with just a single interception. For the Chaps to have any success slowing Lake Travis' offense, making Brewer uncomfortable will be job one.
"The biggest challenges they bring defensively are that they pressure a lot and they move their front a lot," Carter said. "I was very happy how we responded to that in the first game. That being said, that's no guarantee that it happens again that way. We have to go out there and execute."
A defensive coach at heart, Carter understands the importance of taking the opposing quarterback out of his normal rhythm.
"Westlake knows that, and I'm sure part of their game plan is to get Charlie off his spot and rush his decisions," Carter said. "I think that's what you have to do with any quarterback."
As they have for much of the season, the Cavaliers plan on protecting Brewer and continuing their roll.
"They are a well-coached defense and they are very sound, but I think our preparation has been very good," Jaimes said. "Whatever they bring at us, we're going to defend that to the best of our ability and score as many points as we can."