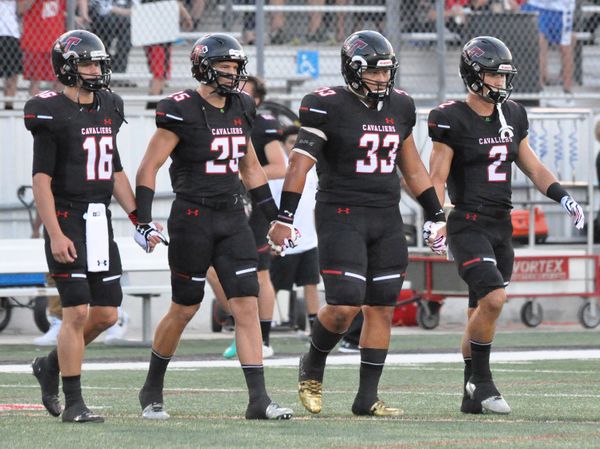 Fast-starting Cavaliers don't sweat pre-game coin toss
At every level, a football game begins the exact same way. The referee calls captains from each team out to the middle of the field and flips a coin to decide which team gets the ball first.
Coaches each have their own philosophy about what to do if fate smiles upon them and the coin gives them the choice to receive, kick or defer their choice to the second half.
"More than half the coaches are going to prefer that their defense starts the game," Lake Travis coach Hank Carter said. "The NFL likes to make big deal out of it because you can score at the end of the half and again to start the second half. Well, that's great as long as you end up with the ball at the end of the half."
Carter doesn't give the pregame coin toss much thought. Then again, based on how his Cavaliers have started games all season, he's had no reason to sweat it. Even when the flip goes the other way, opposing coaches face a damned-if-they-do, damned-if-they-don't choice whether to take the ball.
Carter's Cavaliers have scored a touchdown on their opening possession 12 straight weeks. Conversely, Lake Travis hasn't allowed a first quarter score since the season's third week, when Jesuit kicked a field goal on the last play of the quarter. Win or lose the coin toss, after each team's had the ball once, the Cavaliers' opponent has been playing catch-up.
On the season, Lake Travis has outscored the opposition 269-17 in the first quarter. Many of those scores have come very quickly. Ten of the 12 opening-drive touchdowns have come on drives of four plays or fewer, including three on a single play.
"Maybe we can continue that trend," Carter said upon hearing the data prior to a tough Area match-up with Smithson Valley.
Numbers aside, Carter has his own philosophy about what to do when his Cavaliers win the toss.
"Primarily, if we win the flip we're going to send our defense out there and get a look at [the opposing offense] and then go from there," he said.
He won't change that process as the Cavaliers get deeper into the playoffs. With tougher competition – rival Westlake looms Friday for the Region IV championship – Carter knows teams won't be in awe of what Lake Travis has accomplished.
"Football is such a game of emotion and momentum," he said. "[In the playoffs] these guys aren't going to be in awe of us. They're going to expect they can come out and beat us. Their coaches will have them prepared."
But as the saying goes, everyone has a plan until they get punched in the mouth. If opposing teams know what Lake Travis has accomplished early in games, that can weigh on teams should they see that pattern start to develop before them.
"Regardless of who gets [the ball] first, if we're able to stop them even if they've gotten 3 or 4 first downs without letting them score, everybody's human," Carter said. "It kind of reminds you, yeah, this is what you've been watching on film."
Even if the Cavaliers must wait their turn to send Charlie Brewer and the rest of the explosive offense onto the field, Carter knows what can happen if the Cavaliers score on their first possession.
"For us, we want to score and stop them and let that momentum from what they've been watching build," he said. "They know we're a good football team. Hopefully that can give us a bit of a mental advantage too.
"Either way, whenever we get it, if we're scoring and stopping folks, life's good."