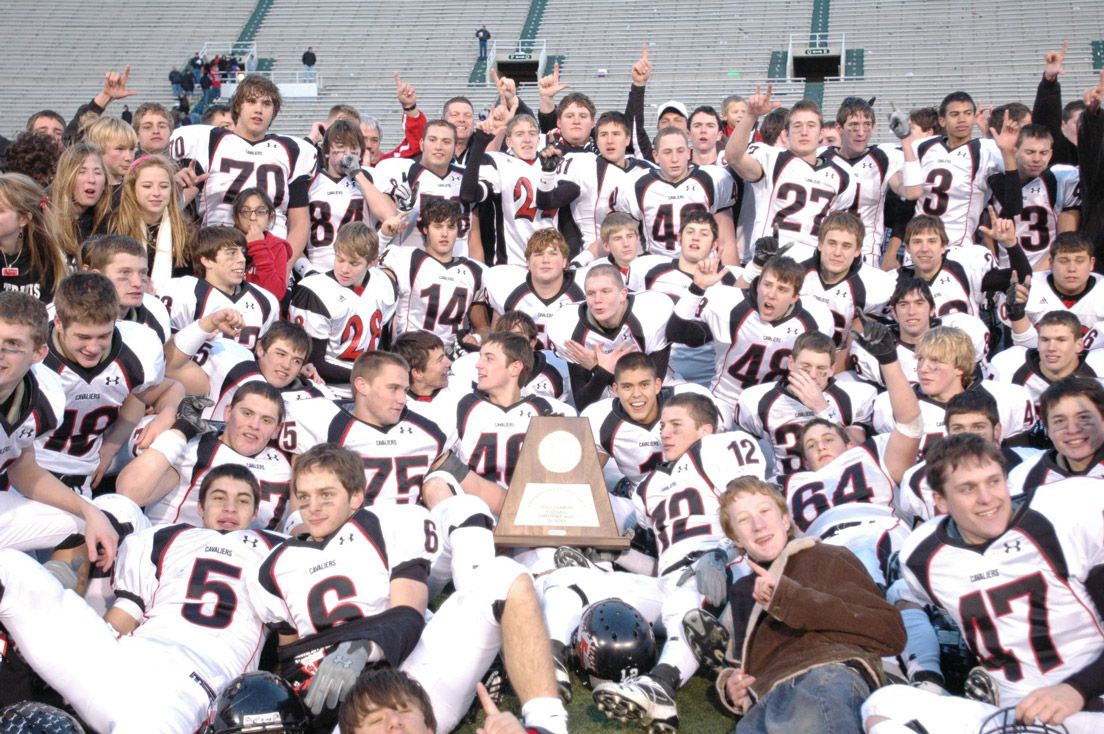 Championship game history
A look at Lake Travis' past championship game appearances. The Cavaliers are 5-1 in championship games.
2015: Katy 34, Lake Travis 7
The immovable object beat the irresistible force.
Katy's record-setting defense, which allowed just 62 points on the season, got the best of Lake Travis' high-scoring offense, which had only failed to score 40 points twice.
Kyle Porter scored three touchdowns and Katy's defense forced three early turnovers to hand the Cavaliers' their first ever state championship game loss. Lake Travis threatened to take an early lead following Cade Green's long gainer, but Maleek Barkley couldn't hang on to Charlie Brewer's pass, and the Tigers intercepted the deflection.
Katy led 3-0 when Paddy Fisher picked up a bobbled snap to set up a touchdown, and when the Tigers hit Brewer as he tried a pass, Michael Matus picked it off and returned it for a touchdown and a 17-0 lead.
"They brought a bunch of blitzes off the edge and we didn't handle it well," said Green, who still made a game-high seven catches for 116 yards. "We prepared all week, and when it came to game time we …."
Lake Travis avoided a shutout when Brewer hit Green for a touchdown just before halftime, but the Cavaliers couldn't get closer and Katy cruised to a 17-0 win.
2011: Lake Travis 22, Waco Midway 7
Jacob Standard led a stifling defensive effort as Lake Travis won its record fifth consecutive state championship.
Baker Mayfield hit Griffin Gilbert for a first-quarter touchdown, and Kevin Marcotte kicked a trio of field goals as the Cavaliers kept the Panthers at bay throughout. Trailing 10-0 at the half, Midway made things interesting by returning the second half kickoff for a score, but Lake Travis' defense did the rest. Standard recovered a fumble on a muffed punt deep in Midway territory, then intercepted a pass to set up Colin Lagasse's clinching touchdown.
2010: Lake Travis 27, Denton Ryan 7
Facing a Denton Ryan team led by top national recruit Mario Edwards, Lake Travis used its speed to wear the Raiders down.
Michael Brewer rushed for a pair of early scores, including a somersaulting score to get the Cavaliers on the board, and Colin Lagasse added a late score as the Cavaliers won their fourth 4A title in a row. Led by Zach Streuling, the Cavaliers held the Raiders to less than 250 yards of offense.
2009: Lake Travis 24, Longview 17
Andy Erickson got behind the Longview defense for an early touchdown grab from Michael Brewer, and the Cavaliers never trailed in winning their third straight title. Longview climbed within 24-17 and the Cavaliers faced a fourth down late in the game. Rather than punt, Brewer hit Tanner Gillette to convert a fourth and three, icing the win.
2008: Lake Travis 48, Longview 23
Garrett Gilbert capped a record-setting career by becoming the all-time Texas High School Football leader in passing yards with his final completion, a touchdown pass to Connor Floyd. In his final game, Gilbert led the Cavaliers past the Lobos by passing for 358 yards and four scores.
2007: Lake Travis 36, Highland Park 34
Lake Travis' first champion appearance resulted in what may be the most exciting game in school history. Lake Travis and storied Highland Park engaged in an epic back-and-forth battle that wasn't decided until the unheralded Lake Travis defense held on fourth down in the final two minutes to earn a 36-34 win at Floyd Casey Stadium.
For the full story, click here.