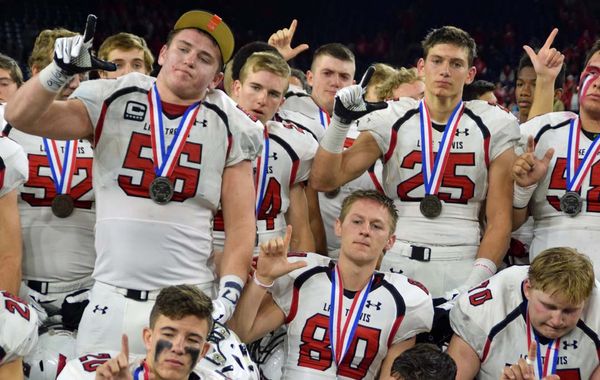 Cavaliers still remember how 2015 season ended vs. Katy
For 15 weeks, Lake Travis' relationship with the 2015 football season couldn't have been much better. In the 16th week, however, that relationship ended very badly.
Players talked about it throughout the spring, and on a quiet Tuesday afternoon, as he prepped the Cavalier Activity Center for a decorative makeover, Cavaliers coach Hank Carter stood eager to get the 2016 season started.
"It's time to go back to work," Carter said. "I'm ready to get back on the field and I think the kids are too."
Like a bad breakup, memories of Katy still haunt the Cavaliers. Ugly losses like the 34-7 title game loss to Katy haven't happened around Lake Travis – the Cavaliers have lost 10 total games in the last nine seasons. But that scarcity of losses just means they are all the more memorable. And valuable.
"The last time we played a meaningful game, it was ugly," Carter said. "We need to come back and learn from it. Hopefully, we learn no more lessons…I'm tired of learning like that."
Two major questions face the Cavaliers as they prepare for fall camp: what did they learn from that loss and how do they plan on changing the script in 2016?
Bigger, stronger, faster
No one liked the feeling leaving NRG Stadium last December. Many of those players return, and Carter wants them to remember how they felt so they can work to avoid feeling that way again.
"If the season ends on a bad note, I wish I could bottle that feeling we had when the game was over because it's not something you want to feel," he said.
That feeling became a driving force for the most strenuous off-season program Carter's ever put the Cavaliers through.
"We had the most strenuous off-season we've ever had, by design," he said. "Why did we fall short of our goal? When it was on the line in the most stressful situation, we failed to execute really simple tasks that we'd done a million times before. That comes down to focus. That comes down to mental and physical toughness, and being able to deal with that adversity. So we pushed them during the off-season and it was rough."
Rough, but productive.
"It drew our team closer together," Carter said. "I think the confidence we have coming out of that…everybody talked about how much bigger and stronger the guys looked…now we just have to remind the guys what it takes for us to play at a high level again."
Adding stress
In 15 fairly convincing wins leading up to the title game, Lake Travis faced adversity precious few times. The Cavaliers' new non-district schedule, along with a deeper district that swaps Anderson, Akins, and Austin High – a trio Lake Travis beat by a combined 186-10 score in 2015 -- for Vandegrift and Vista Ridge, should provide more resistance.
Lake Travis opens with perennial playoff qualifiers Converse Judson, Cibolo Steele, Dallas Jesuit and Hendrickson. The Cavaliers might even see Judson twice. Both figure to be Division I qualifiers in Region 4.
"I went shopping in Region 4 thinking we were going to be a Region 2 team," Carter said of the Cavaliers' schedule. "We are playing some great opponents early in the season…a murderer's row."
Playing those tough games early puts more of an emphasis on the preseason practices. Come Aug. 26, the Cavaliers need to be ready to play at a high level.
"All four teams we play in preseason…if we don't show up with our best, they can kick our butts," Carter said. "That's stressful, but that's the feeling that we want."
Re-loading
Dave Campbell's Texas Football tabbed Lake Travis as the preseason favorite to claim the 6A, D1 title, and Carter's Cavaliers don't shy away from the attention.
"I know it's important to them," he said. "They want to go out on top, winning their last game."
The lofty ranking comes well-earned. Frustrating as the Katy game proved, Lake Travis still played for the state title and returns the bulk of a high-scoring offense, led by quarterback Charlie Brewer, receivers Cade Green, Cade Brewer, Maleek Barkley and Mac Humble and tackle Brenden Jaimes, all of whom are committed to Division I schools. Santiago Villegas, Tyler Barrett, and Matthew Armendariz also return as starters, and sophomore receiver Garrett Wilson figures to make a big splash as well.
If the Cavaliers must regroup, it's on defense, though the cupboard is far from bare. Austin Hiller, another D1 commit, Aidan Estrada, Mateo Lopez, Aaron Brown-Nixon, Michael Mast and Sammy Ochoa return to anchor a stingy defense, as do part-time starters Ryan Wilkins, Connor Kratsas, Alec Fuentes and Jake Foster, defensive backs all.
The defensive line must rebuild itself. Ochoa returns from injuries sustained in an auto accident but the four players who started the title game are graduated or, in Scott Cummings' case, moved to the offensive line.
"They aren't a lot of guys you've heard of because they're going to be first-time varsity players, but I know we're going to be okay," Carter said.
At tackle, Cade Langston enjoyed a solid spring, and Cesar Guzman moved back to Lake Travis. Reid Bacon could play tackle, end or linebacker. T.J. Simien had a solid spring at defensive end, and Kyle Wakefield, Drake David and Bingham Woody also figure to get chances to make plays.
In the secondary, the Cavaliers must fill the corner spot vacated by Tanner Bush. Fuentes showed promise last season before an ankle injury sidetracked him. Foster played well at times. Varsity newcomer Nathan Parodi turned heads in the spring and again in the summer 7on7 competitions and has thrust himself into the mix.
"This summer watching him in the 7on7, he's really picking it up," Carter said. "I'm excited to see how that translates when we put the pads on again."
Preseason practices begin on Monday, Aug. 8. Pads start popping again on Friday, Aug. 12. The team will hold an inter-squad scrimmage on Aug.13 and will scrimmage Cedar Ridge on Aug. 19. The Cavaliers host Judson on Aug. 26 to open the regular season.