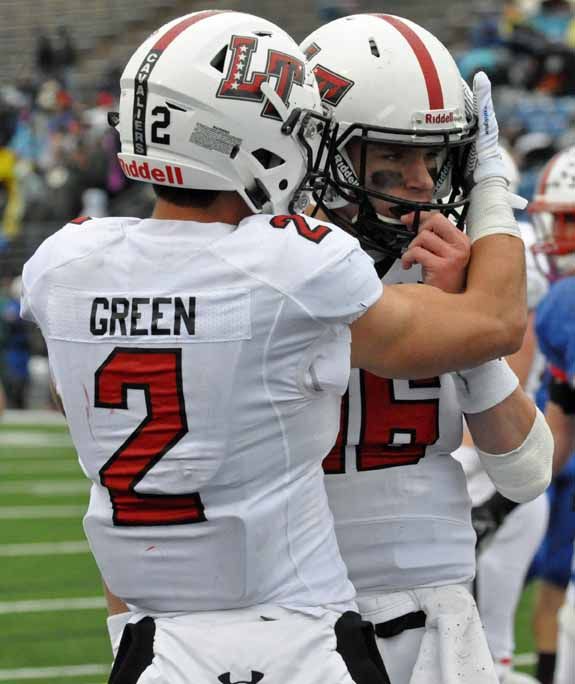 Cavaliers, Rockets part of games involving state's most recognizable programs
Three District 25-6A favorites certainly aren't easing into the new football season. Vandegrift, Westlake and Lake Travis host three of the state's blue-blood programs to kick things off.
The Vipers, new to the 6A scene, get their feet wet hosting Odessa Permian. Westlake, a Division I state finalist last year, hosts Katy, who's played in the last four title games, winning two. Lake Travis welcomes six-time state champion Judson, a 6A semifinalist the last two seasons, to Cavalier Stadium.
Excitement, understandably, has reached a fever pitch. One week after scrimmaging Cedar Ridge in front of hundreds, Lake Travis will try to ground the Rockets in front of 7,000 fans.
"It's crazy how much more energy you have when thousands of fans are screaming for you, watching and expecting a state championship team," Lake Travis senior safety Austin Hiller said this week.
The Cavaliers spent much of the week shaking off the frustration from the scrimmage, where two big plays from Cedar Ridge and some offensive sloppiness left a foul taste in everyone's mouth. If some eyebrows raised in concern following the scrimmage, they don't belong to anyone inside the Cavalier Athletic Complex, especially coach Hank Carter.
"It's hard to explain to people on the outside, but our kids get excited when they're supposed to be excited," Carter said before taking a last look back at the scrimmage. "We rolled out there without having seen a single bit of footage on Cedar Ridge. It was like a pop quiz. Well, we're studying for this test, and I expect the kids to be more focused, more precise in their assignments."
Some of Lake Travis' top players know their scrimmage performance left much to be desired. Though the Cavaliers made plays at times, they didn't perform to their own high standards, and scrimmage or not, that bothers them.
"Nothing against Cedar Ridge but we hold ourselves to a higher standard than that," senior receiver Cade Green said. "I know I wasn't satisfied with my play and I know other guys weren't as well."
Lake Travis players and coaches know that Judson will bring as athletic a team as the Cavaliers will see all season for this opening week battle. That will have the Cavaliers dialed in.
"Like Cade said, we hold ourselves to a higher standard," senior linebacker Mateo Lopez said. "We're working on trying to eliminate the mistakes that happened. We're looking to be ready for a much more experienced team in Judson."
While the Rockets may not be as experienced as the team that lost to Galena Park North Shore in last year's semifinal, they remain plenty talented.
"They had a really, really good team and lost a lot of good kids, excellent players," Carter said. "They're going to be tough. Defensively, they are very aggressive. Kids are flying around and they've got lots of guys who can run."
Quarterback Julon Williams commands the Rockets' attack. Together with running backs Jay Miller and Sincere McCormick can go the distance on any given snap. Carter said Lake Travis' revamped defensive line – Sammy Ochoa and T.J. Simien have varsity experience but are joined by newcomers Kyle Wakefield and Kade Langston – must be disciplined in the way it rushes Williams.
"We need to keep him bottled up, corral him and push the pocket in on him," Carter said. "Our D-line has a lot of new guys, fresh faces. We've got to be disciplined in the way we rush the quarterback. We can't just go roaring up the field."
While Carter wants his defense to keep Williams under wraps, he hopes Lake Travis' offensive line can provide quarterback Charlie Brewer time to get Lake Travis' high-octane offense moving.
"I want us to play fast on offense, see Charlie be an operator back there and get us going," Carter said.
The quarterback played well in the scrimmage, running with a purpose he didn't show last year and hitting Cade Brewer and Garrett Wilson for touchdowns. Coming off a year where he passed for 42 scores and ran for nine more, he's eager to get started on another run at a title.
Green, Brewer's top target a year ago, wants to get things going, too. He's eager to remind everyone that Lake Travis belongs in the company it's keeping Friday night. Of the six teams playing in the area's three biggest games, only Vandegrift lacks a state title. The Cavaliers have five and itch for another shot at a sixth.
"We want to come out and show the rest of the state that this is the Lake Travis team they know and that everybody is expecting us to be," Green said. "We have a huge target on our back right now, and I think we need to come out and show everybody who we are, make a statement in this first game."
Hiller realizes what Green's saying.
"That's a lot of pressure," he said, "but I'm confident we'll live up to it."