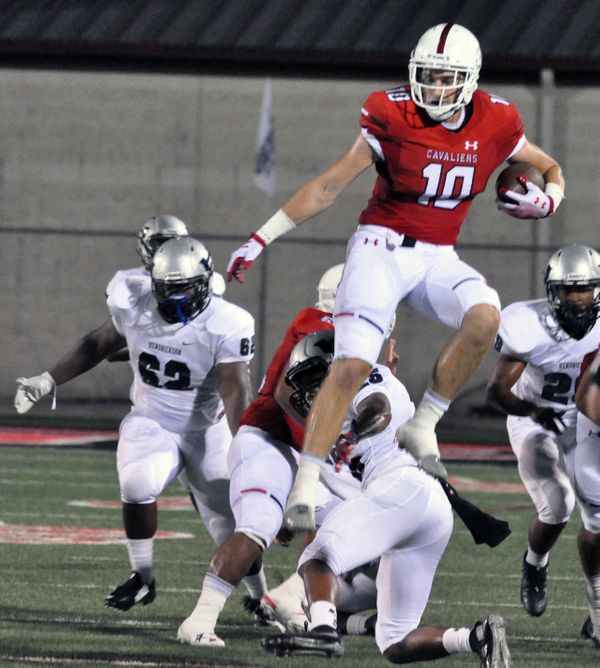 Brewers put on show for future college coaches
With their college coaches in attendance, Lake Travis' SMU-bound duo of Charlie and Cade Brewer led the Cavaliers (3-1) to a 50-7 win over Hendrickson (1-2).
In front of Mustangs head coach Chad Morris and offensive coordinator Joe Craddock, Charlie Brewer completed 16 of 19 passes for 340 yards and five touchdowns and Cade Brewer, the Cavaliers' tight end, caught four of those passes for 128 yards and a score.
"I think we were sharp tonight," the quarterback said. "The receivers ran good routes and I think for the most part I made the right reads. Everything was clicking and we finally played a complete game tonight."
Playing in front of his future coaches provided extra motivation, as did playing in front of his brother Michael.
"I was excited that Coach Morris and Coach Craddock were going to be here," he said. "I'm also excited that my brother gets to see me play this season."
Michael watched Charlie creep closer to him on the school's all-time passing lists. Michael ranks second in every category, but Charlie closed within six career touchdown passes of his older brother with his five TD passes Friday.
The Brewer-to-Brewer onslaught started early, when Charlie hit Cade for an 18-yard score on the Cavaliers' opening possession. They connected for big gainers throughout the night, including a pair of 40-yarders.
"Because of the way Hendrickson plays Cover 2 [defense], we felt like we could hit some slants and some inside routes, and they did that well," coach Hank Carter said.
The Cavaliers led 21-0 at the break Garrett Wilson scored the first of his two touchdowns and Maleek Barkley got behind the defense for an 80-yard grab. After halftime, Barkley broke loose on a big run to set up Wilson's second TD grab, and the running back added another score later when he scampered in from 18-yards out. Charlie Brewer capped his night with a quick strike to Mac Humble, who broke free for a 27-yard score.
After allowing better than 500 yards per game in the opening two weeks, Lake Travis' defense continued its resurgence. The Cavaliers followed up a solid effort in Dallas with a dominating showing against Hendrickson. The Hawks averted a shutout on Josh Cameron's late sneak but mustered just 226 yards of offense, 70 of which came once Lake Travis led 50-0.
T.J. Simien registered a pair of quarterback sacks, and the linebacking group of Mateo Lopez, Will Lisenby and Matthew Peterman kept the Hawks from breaking any long runs. Hendrickson's biggest play of the night came on an 18-yard run. Jake Foster intercepted a pass for the second straight week.
Barkley rushed for 96 yards and tallied 102 yards receiving for the Cavaliers. Adonis Bailey led Hendrickson with 84 yards rushing on 11 carries.
Notes: Lake Travis has won all nine meetings with Hendrickson….Charlie Brewer's five TD passes are a career-high and give him 66 for his career, three shy of Baker Mayfield….Cade Green's catch against the Hawks was the 150th of his career, ranking fourth on the school's all-time list….Barkley topped the 1,000-yard rushing mark for his career Friday night….Lake Travis played without defensive starters Aidan Estrada (illness) and Aaron Brown-Nixon (injury).
Photos from Lake Travis' win over Hendrickson
Photos from Lake Travis' 50-7 win over Hendrickson