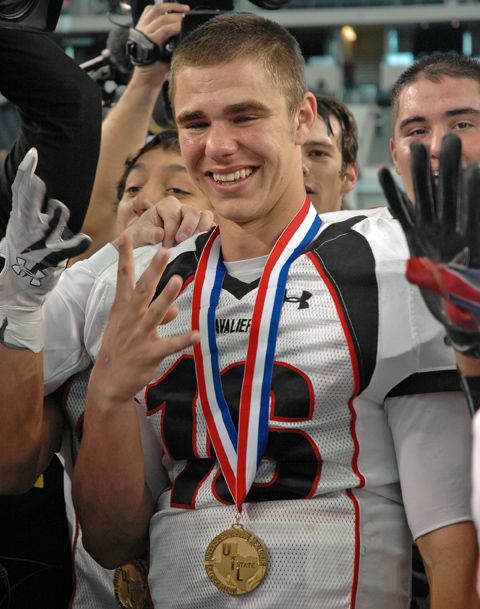 Battle of Lakes has intensity, feel of a college rivalry
Michael Brewer knows what to expect when he gets to the stadium.
"The crowd will be extremely loud on both sides," he said. "There's not going to be anywhere to move around. Standing room only."
Brewer could be talking about the scene at the Cotton Bowl for tomorrow's Red River Showdown, where nearly 100,000 fans in crimson and burnt orange will stand shoulder-to-shoulder in the venerable stadium. But he's not.
He's setting the scene for tonight's Battle of the Lakes, where a capacity-and-then-some crowd will take in the 11th meeting between Lake Travis and Westlake. Despite its relative youth, the series between the Cavaliers and Chaparrals has taken Central Texas by storm, producing some of the largest crowds and most exciting games along the way.
"Any time that Lake Travis and Westlake play, it's always memorable for both sides," Brewer said. "Over the past decade it's been two really good programs, very well coached teams with a lot of tradition. The student body at each school is very similar, very passionate about their football programs. It's a highly anticipated game every year."
Brewer played in three of these games – two as Lake Travis' starting quarterback, including one before 30,000 spectators at DKR. He also played in a spirited college rivalry while at Virginia Tech, leading the Hokies to consecutive wins over rival Virginia to claim the Commonwealth Cup. The intensity and the attention that the Battle of the Lakes commands rivals the most intense moments he experienced in college.
"For a high school game, it's like something you'd see on tv or in a movie," he said. "This game in particular will have a crazier atmosphere than a lot of games I played in during college. It's maybe like the University of Virginia when I was at Virginia Tech."
Part of the collegial atmosphere stems from the way both schools operate. With its facilities and somewhat sprawling campus, Lake Travis is often referred to as Lake Travis University. Brewer said there's more truth to that reference than the casual observer might realize. The same holds true with Westlake.
"One reason why Lake Travis and Westlake are so successful is that they practice, they work out, they prepare, game-plan wise, like college teams," Brewer explained. "From Monday morning on, all the emotion and prep is very similar to college."
The buzz and hype around the game takes the intensity and feel to another level.
"Then you get into this game and all of a sudden you've got a bunch of media attention," Brewer said. "It's the number one game of the week in the state, number one game of the week in the country [according to Maxpreps.com]."
The game will feature plenty of players who'll get the chance to play football in college. Sam Ehlinger (Texas) and Levi Jones (undecided) are Westlake's most prominent major college prospects. Lake Travis will have more Division I players on this roster than they've ever had before, as Westlake coach Todd Dodge pointed out this week.
"I mean, you've got almost the entire [offensive] starting lineup that has committed to a Division I school," he said. "They are very, very talented."
One thing the biggest college rivalries have is the urgency that comes from playing a conference game. Brewer said the Lake Travis-Westlake rivalry took a huge step up the intensity scale when the UIL decided to put the schools in the same district beginning in 2012. If the battle for simple bragging rights proved intense, adding a district trophy and playoff implications to the mix turned up the heat exponentially.
"I think it's great to experience this, to play in a rivalry game of this magnitude," Brewer said. "And it has more implications now that you've got the district championship on the line."
The team that loses the game won't see its season crumble: both are headed to the playoffs with dreams, if not expectations, of state titles. But the district title remains important.
"Our goal when we enter district play is to win a district championship," Westlake's coach said. "If you're going to win a district championship, you better do well in this game. It won't end our season if we come out on the short end, but…"
Whether it was the experience he gained playing in this game or another factor, Brewer has enjoyed almost unprecedented success playing his biggest rivals. He went 3-0 against Westlake and 2-0 against Virginia while quarterbacking the Hokies. He savors nearly every minute of the time he spent in those games, both leading up to and helping lead his teams to wins. If he has any regret, it's possibly not taking a moment to take everything in and savor the atmosphere. His advice for players on both sides: enjoy it.
"It goes by fast," he said. "Sometimes you have to take a step back to really enjoy it. You guys are lucky to play in a game like this, be in a program like this, and have a student body that's coming out here, being loud and creating such a great home atmosphere. Take a picture and remember it all."