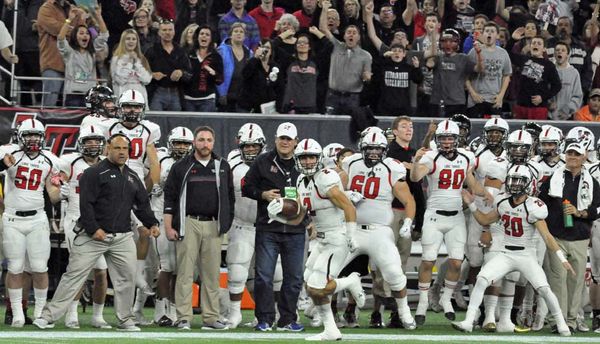 Balanced receiving corps could be school's best
As they typically do, the Lake Travis Cavaliers head into football season with high expectations.
This season's expectations come from the healthy combination of last year's success and a large returning crop of starters – many of whom are already committed to play college football.
"We've got as talented a group of kids as we've ever had," head coach Hank Carter said. "We've never had a class with this many commits. It means we have a lot of talented players. I think it's great."
Befitting Lake Travis' offensive reputation, many of those committed players play on that side of the ball, including every returning receiver at quarterback Charlie Brewer's disposal. Cade Green (Wisconsin), Cade Brewer (SMU), Maleek Barkley (Arkansas) and Mac Humble (Penn) form what might be one of the most complete receiving corps the school has seen.
Cade McCrary, a two-time state champion and all-state Cavalier receiver now coaching at Lake Travis Middle School, has a unique insight into the current Cavalier pass-catchers.
"Physically, these guys are all way ahead of where we were," McCrary said. "The three other guys who started with me are some of my best friends to this day and were all really great players, but the guys that we have now are all physical specimens. They can all run. They are all bigger than we were. A lot stronger, that's for sure."
In McCrary's senior season, opposing defenses had little luck slowing down the Cavaliers' passing attack. That year, McCrary led the way with 84 catches. Austin Pollard caught 60. Connor Floyd caught 33. Running backs Chris Aydam (49 catches) and Andy Erickson (34 catches) also figured heavily in the passing game.
Healthy numbers, all, but they don't quite match the depth of what the current Cavalier quartet did last season, when defenses had just as much trouble slowing the Cavaliers. Green, Brewer, Barkley and Humble each caught more than 50 passes, a first in school history. McCrary understands the significance.
"They have four or five receivers who can step up and make a play at any given time," McCrary said. "It's a task to try and game plan. If you pick someone that you don't want to hurt you, say Cade Green, and you roll coverages that way, then Cade Brewer will get you, or Mac. It's very difficult."
'Action figure'
Green, one of the Cavaliers who made the most of the off-season weight program, ranks in the top six of three career receiving lists (catches, yards and touchdowns. He gives the Cavaliers a sure-handed receiver with speed to get behind the defense.
"From the day he got here, he probably had the best footwork I've ever seen on a kid that age," McCrary said. "The footspeed and the way he ran routes, he was very ahead of his age as far as that skill-set. Now he looks like an action figure."
'Match-up nightmare'
Cade Brewer emerged as an explosive combination of size and speed playing a hybrid tight end/H-back role. In one varsity season he earned all-state honors and is one of two Cavaliers named to the pre-season all-state team by Dave Campbell's Texas Football.
"Cade Brewer is 220-something pounds and can run like a small guy, plus he's got phenomenal hands," McCrary said. "That's just somebody who's a match-up nightmare. You can't put a linebacker on him because he'll outrun him and he'll run over smaller corners and safeties."
Game-changing speed
A varsity starter for two years as a wideout, Barkley showed his versatility when he assumed some running back responsibility following Abe Willows' injury last season. Barkley racked up more than 1,600 all-purpose yards. Solid during the regular season, he exploded in the playoffs with 497 yards rushing and another 304 receiving.
"Maleek is a phenomenal athlete with game-changing speed," McCrary said. "With my class and me specifically, you could never look at us and say, okay, just beat that guy with speed. That wasn't in my book of tricks. With Maleek, that's something he can do."
The 'utility man'
As defenses focused on Green, Brewer and Barkley, the often overlooked Humble simply found open space in defenses and caught everything that came his way. He caught 51 passes, including a team-best seven in the state championship game last year.
"Mac Humble is one of the hardest workers at any level I've seen or been around," McCrary said. "He's an inside slot guy but he's a utility guy who can play on the outside, too. He's a great player who is sometimes not spoken about, which is crazy."
And that doesn't mention sophomore Garrett Wilson, who figures to get his chances after a dominating season on the freshman team last year.
"I don't know if people will agree with me but in my eyes he's probably one of the best athletes ever to come through Lake Travis," McCrary said.
With so many playmakers, does Carter worry about getting them the ball enough?
"It's the same group coming back," he said. "The kids understood that everybody got the ball as much as it was required."
McCrary echoed the coach's thought. He feels for Michael Wall, the offensive coordinator.
"When you have that many weapons and good players, you have to look at it like there are no names," McCrary said. "You run the plays you think will work, especially with an experienced group like this, they are going to be in the right spot."
The quarterback agrees. He said he won't make a conscious effort to spread the ball around. But if this season's at all like the last, it will happen organically.
"I'm not going to focus on trying to spread it around," Charlie Brewer said. "Whatever play is called, I'm going to read it accordingly with how I'm taught by Coach Wall and whoever's open will get it."
Receiving corps may be deepest in school history
Cade Green, Cade Brewer, Maleek Barkley, Mac Humble and varsity newcomer Garrett Wilson give Lake Travis weapons across the field.